Hair Loss information blog

Top 10 Minoxidil Product Brands in The World
There are not many hair growth products with credible scientific research to prove their effectiveness. However, Minoxidil is a well-known medication that has proven amazing results in treating hair loss, backed by empirical evidence in various medical articles. Hence, there are many brands in the market with Minoxidil as the active ingredient. It is undeniable that Minoxidil is an important component in stimulating new hair growth, but which Minoxidil product is the most recommended? Let's take a look at some of the best Minoxidil brands out there.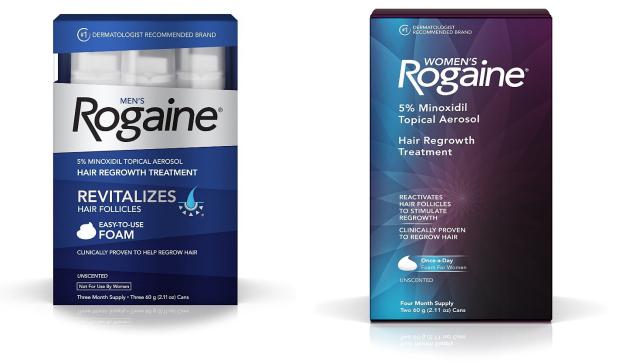 Rogaine
Rogaine is arguably the most popular brand of Minoxidil anywhere in the world (also known as Regaine in Europe and the Asia-Pacific). It's hard for anyone to not know the brand since Rogaine is the very first brand to introduce Minoxidil as a topical solution for hair loss in 1988. Upjohn Corporation is well established to continuously develop and improve their products for more than 20 years, despite the expired patent which allowed competitors to use Minoxidil in their hair growth products. Rogaine may cost above the average consumer's budget, but the results delivered are consistent with their claims. The foam type is specially formulated for sensitive scalp. Furthermore, it melts easily and is completely absorbed through the skin.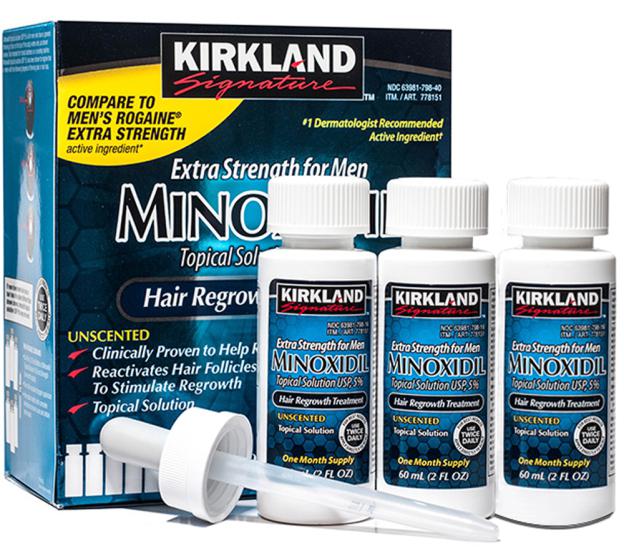 Kirkland
Originally from the USA, this name is known for their convenience. The child-resistant dropper applicator included with the product helps to apply the liquid solution. Kirkland provides a one-month supply option and an excellent bulk option at a fairly competitive price. It is one of the most affordable choices for those either wanting to try out Minoxidil as well as those who are continuing the product and need to buy a huge supply. Moreover, there is no other brand which offers 12-month supply packages of Minoxidil. There is no need to worry about being not able to finish before the expiry date either as the shelf life is about 2 years. The only downside is that Kirkland states their products to be suitable for only men and not women. However, studies have proved that the Kirkland 5% Minoxidil foam instead of liquid solution may be used by women, to be applied only once a day instead of twice for men.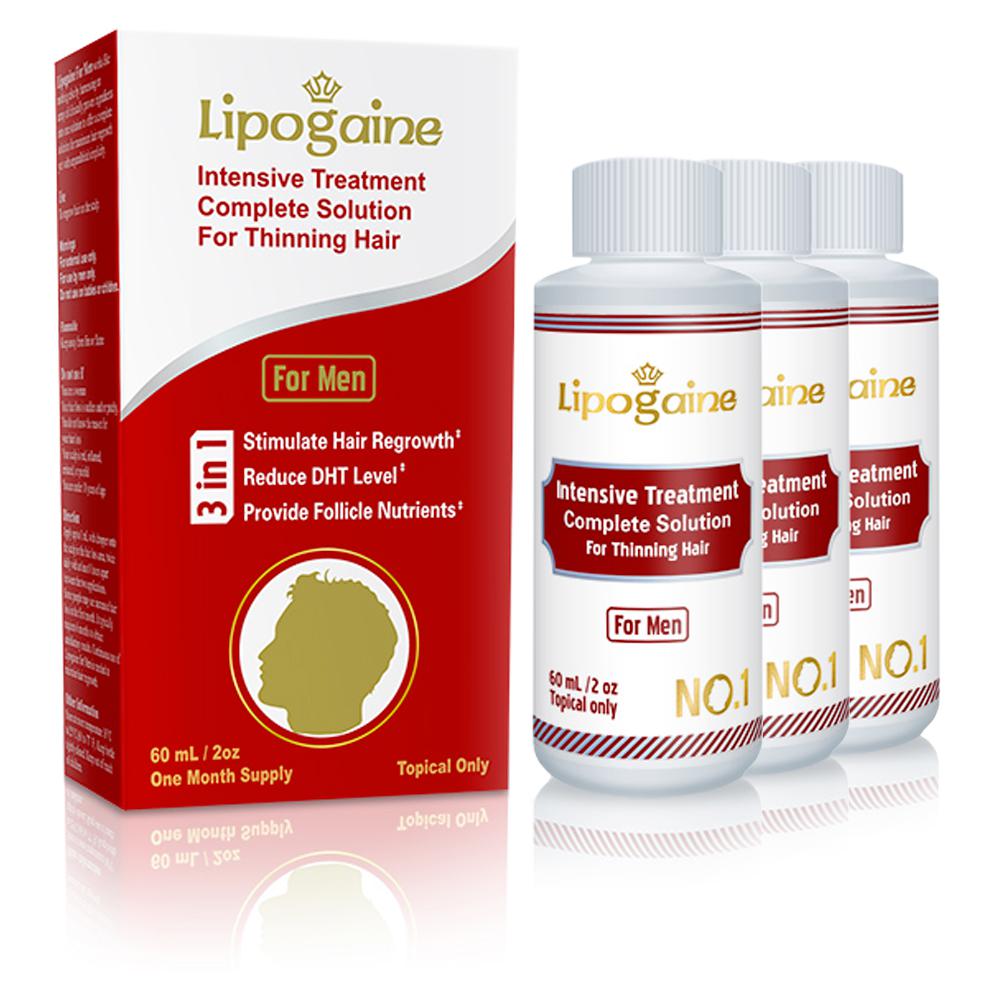 Lipogaine
The product line of this brand aims to be comprehensive, as Lipogaine uses a unique mix of supplementary ingredients in addition to Minoxidil. Unlike many other brands, Lipogaine focuses on reducing the DHT hormone which is closely linked to hair loss. Due to DHT, inflammation in the scalp causes damage to hair follicles, so DHT needs to be reduced to the lowest level. Thus, besides stimulating hair follicles and growth with Minoxidil, Lipogaine has DHT blocker, biotin, niacin, vitamins and other ingredients to prevent hair loss and nourish the scalp with nutrients. Therefore, the products developed by Lipogaine are marketed at a premium price.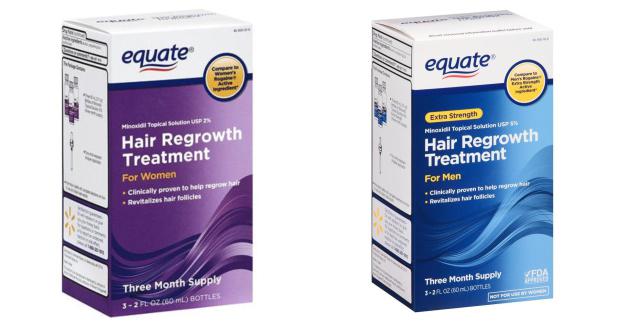 Equate
This product is perfume-free, dye-free, and oil-free with its all natural ingredients. Equate has become a well known brand for being easily accessible to purchase and is associated with the famous supermarket from the USA, Walmart. Equate is available for both men and women, with 5% and 2% respectively of Minoxidil concentration in their topical solution. This is suitable for those who have a general thinning of hair on the top of the scalp. It is not intended for a receding hairline or frontal baldness. Other than that, it is a pretty budget-friendly solution to regrow hair.

DrFormulas Hairomega
DrFormulas is a popular brand offering a wide range of health products, and they developed only one product containing Minoxidil: DrFormulas™ Hairomega® Foam 2% Minoxidil – Natural DHT Blocker Topical Serum for Hair Loss. Hairomega Foam is a proprietary 2% Minoxidil foaming solution combined with a blend of herbal DHT blockers. It features minoxidil, along with other ingredients that block DHT directly on the scalp. For being one of the few brands with both DHT blockers and Minoxidil, DrFormulas Hairomega promotes healthy hair growth through two ways: blocking DHT using its unique blend of herbal ingredients, and boosting circulation to the scalp with Minoxidil, helping to nourish hair roots and follicles. The product does not contain artificial colours and flavors, chemical preservatives, or gluten. It is manufactured in the USA in compliance with FDA policies. DrFormulas Hairomega also provides money-back guarantee, which shows how confident they are with delivering their promises.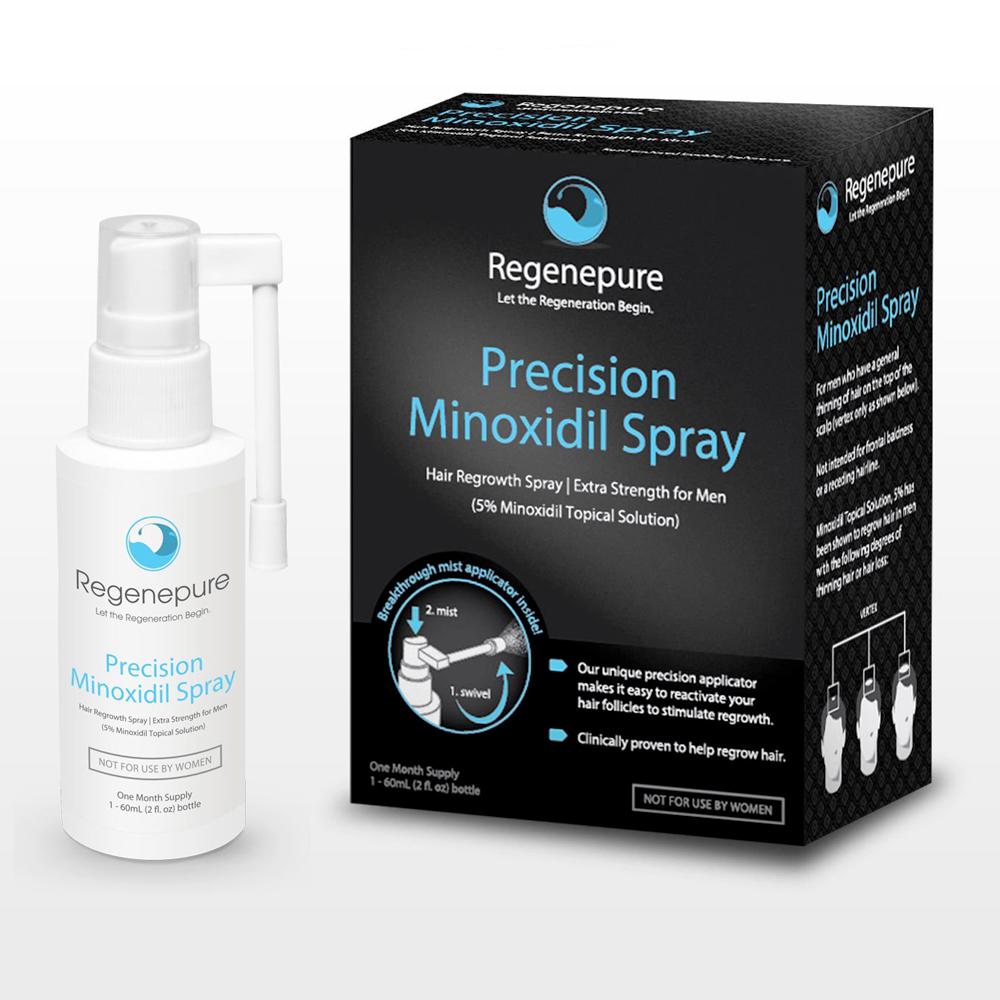 Regenepure
Regenepure Minoxidil comes in a precision spray bottle. This is great to prevent spills, with the fine mist applicator to ensure a clean and targeted application of Minoxidil. The absolute accuracy helps to target problem areas easily. Besides that, the direct contact spray will assist in providing the scalp with the oxygen and nutrients to stimulate healthy hair growth. When applied twice a day, Regenepure supports hair regrowth and promotes thicker hair strands where there is thinning and weakness. Regenepure Precision 5% Minoxidil Spray works best when used after hair wash with their shampoo, to help cleanse and detoxify hair follicles which allows optimal Minoxidil absorption. Regenepure has a versatile line of products which can be used in various combinations including the Minoxidil for the best hair growth results. In addition, Regenepure Precision 5% Minoxidil Spray is stored in a small 60ml container which is convenient to carry around. However, there is only one type of Minoxidil spray suitable for men only.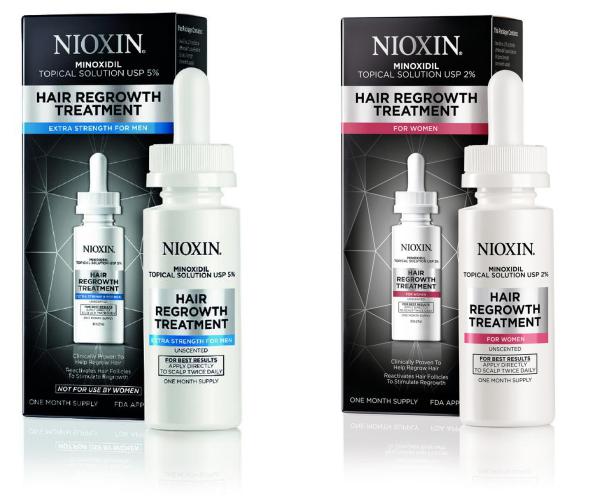 Nioxin
Nioxin with Minoxidil is a salon exclusive hair regrowth product specially made for those with advanced thinning. It claims to reactivate hair follicles to stimulate regrowth. Nioxin products are clinically proven to effectively help hair growth in men and women. Moreover, the product is colourless and unscented so it is undetectable to others. Many customer reviews online expressed satisfaction towards the product. It is eminent that hair regrowth takes months to occur, so users are aware that patience is needed when using hair regrowth products. Some users have reported going from borderline balding to a full head of hair by using Nioxin.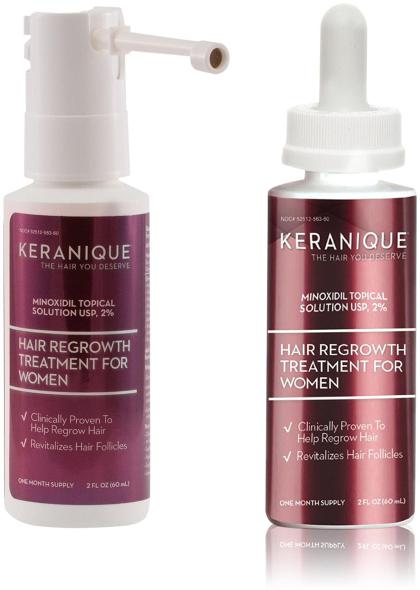 Keranique
Keranique is one of the very few brands which focuses exclusively on women. The hair regrowth treatment consists of 2% Minoxidil, specially formulated for a woman's biochemistry to regrow and restore hair for women of any age with any type of hair. Not only that, it is formulated without parabens, sulfates, and phthalates which cause harmful side effects. Keranique also makes sure that their products are clinically tested to be gentle enough for colour treated hair and chemically processed hair without stripping away the colour or change the structure of the hair. Keranique has developed the dropper solution and the extended nozzle sprayer series for easy application.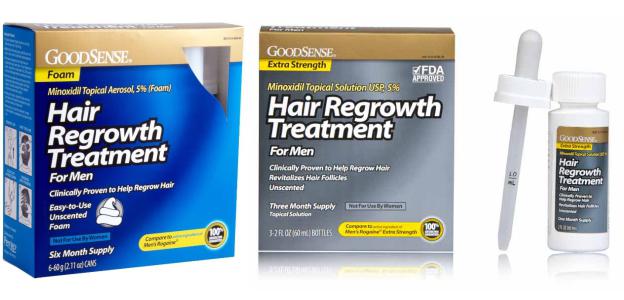 Goodsense
Available in aerosol foam form and topical solution, Minoxidil by Goodsense comes in 5% and is only for men above 18 years old and experiencing gradually thinning hair or gradual hair loss on the top of the scalp. This product is not for use by women. This unscented, easy-to-use treatment revitalizes hair follicles and is clinically proven to help regrow hair. Goodsense claims that results may be seen as early as 2 months with twice daily use. For some men, it may take at least 4 months for results to be seen. Manufactured by Perrigo Company, the organisation is a leading global healthcare supplier of over-the-counter pharmaceuticals.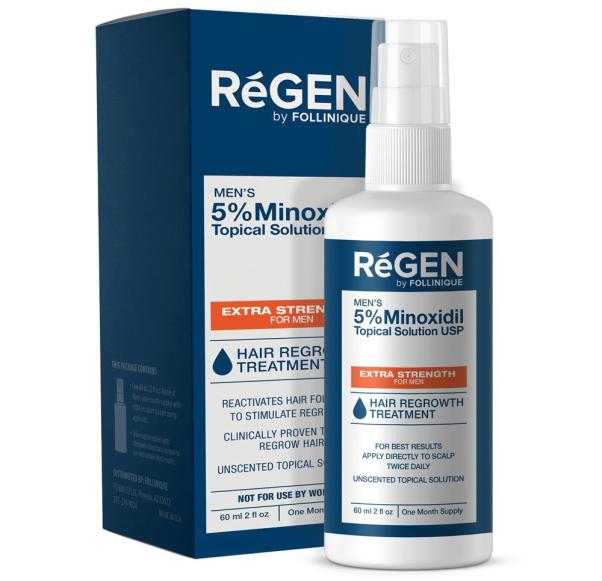 ReGEN
ReGEN by Follinique is a fully FDA approved proprietary blend hair growth formula for which the active ingredient is 5% minoxidil. ReGEN claims to have fast acting, clinically proven results in 2 months by reactivating hair follicles sitting near the scalp surface, nudging them from their resting phase (known as Telogen) into their growth phase (known as Anagen), to substantially increase users' chances of reducing hair loss and stimulating hair regeneration. ReGEN recommends pairing their products with ReGen Advanced Hair Nutrition Premium Formula – a proprietary blend of vitamins and minerals that support hair growth for maximum results. They have also included a disclaimer that when the user first begins to use the product, hair loss may increase temporarily for up to 2 weeks. This is a probable sign that old hairs are being removed in order to regrow more new hairs. This temporary increase in hair loss is expected and is part of the process for regrowing hair.
Keep in mind that Minoxidil takes months to show any results. For immediate results to thicken hair (within 30 seconds), try out TOPPIK Hair Building Fibers! Visit toppikmalaysia.com to find out more.
Copyright Global Hair Solution
Written by : Vivian
For full head of hair in 30 seconds , TRY TOPPIK !