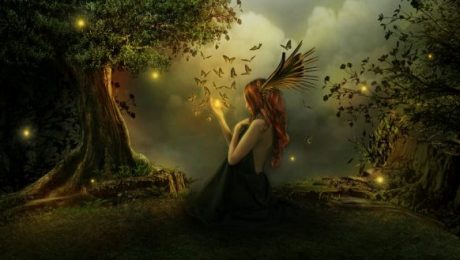 The Hair Loss Fairy

Caroline was combing her hair in her room when her father walked in. Turning around to look at her father who was
carrying some books that he had just bought for her. She ran over excitedly to see the books that she had wanted so much.
"Papa, thank you very much. You are the best Papa in the whole world," said Caroline while giving her father a big warm hug.
"If I don't buy for you, then I'll be the worst Papa in the whole world?" teased her father.
"No! You are the best!" reiterated Caroline again.
"Even if I don't buy for you?" asked her father while looking at his little princess.
"You will buy for me because you are the best!" answered Caroline with a broad smile on her face.
Her father laughed out loudly. He had always cherish his little girl ever since his wife passed away years ago.
She is his world, his everything and his only meaning and joy in this world.
"Papa, since you buy books for me. I'll do something for you in return."
"What do you want to do for me, my little angel?"
"Sit down here. I'll comb your hair for you. I'll be your hair stylist." Caroline imitated the action of a hair stylist.
"Thanks to you, my little princess."
Caroline started combing her father's hair when she noticed that there were bald patches on her father's head.
"Papa, you have bald spots on your head."
"Papa's growing old. Losing hair / hair loss and going bald are something very common as one aged," her father
answered in a relaxing manner as look doesn't matter so much to him anymore.
"Can't you do anything about it?" queried Caroline.
"It doesn't matter." her father replied.
"Why not? Don't you want to look good?" Caroline asked again.
Her father slumped down in his chair. "So, Caroline wanted a good looking father. Caroline won't love Papa
anymore if Papa having hair loss?" her father joked.
"No. No. I love Papa very much even if Papa has hair loss problem – not even one single hair!" said Caroline
with the innocence of a six-year-old.
Her father burst out laughing.
"But don't you want to look good?" inquired Caroline.
"I think I already look good by having you," her father smiled.
Caroline stopped for a while, pondered for a moment then continue, "I wish not to grow up so that Papa will never grow old.
How nice if we can be like this forever?"
"Time always move forward," explained her father.
"But how nice if we can stop it here and now. If only we can choose…"
Her father answered, "Of course you can."
"How?" asked Caroline with her eyes wide open.
"You can choose to be happy or to be sad. You have the choice. Choose to think of happy things.
Filled every moments with thoughts of happiness and you'll be happy from moment to moment, day to day." explained her father.
"So, Papa don't mind even if Papa is going bald? With no more hair?"
"It's okay. As long as you don't mind," her father replied while gently caressing Caroline's face.
"Can't we do anything about it?"
The father came out with a story to amuse his daughter, "We can seek the help of the hair loss fairy."
"Hair loss fairy?" Caroline's eyes widened with curiosity.
"Yes. Hair loss fairy. She will come and help you to keep your beautiful hair."
"Really?"
"Really really," her father smiled with amusement.
"Has Papa seek her help before?"
"No," her father answered shortly while waiting for her daughter's question as he knew that she enjoy reading
fairy tales stories and her whole mind were filled with imaginations.
"Why?" Caroline insisting for an answer.
"Because it doesn't matter to me that much."
"How to ask for her help?"
"If you are a good girl and behaves well, you can get to see her at midnight. Then you can wish for something and she'll grant your wish."
Caroline was determined to see the hair loss fairy as she wanted to help her father. Staying up whole night long
day after day but she didn't managed to see the so-called hair loss fairy.
One morning, her father found her sobbing in her room, "Caroline, what's the matter with you?"
"The hair loss fairy didn't come. Is it because I'm not good enough?" asked Caroline with tears trickling down her eyes.
"Why? You wait for her?" asked the puzzled father.
"Yes. Night after night but I didn't manage to see her."
"Your hair growth is excellent and had became so long and beautiful. There's no need for that."
"I'm asking not for myself but for Papa," clarified Caroline.
Then her father had to tell her that hair loss fairy doesn't exist, it's just a figment of his imaginations.
He just wanted to entertain his daughter.
"Papa, if the hair loss fairy doesn't exist, I'm unable to help Papa." said Caroline with a sad
expression on her face filled with dissapointment.
"Thank you, Caroline for what you have done for me," her father beamed with happiness.
"I didn't do anything. I can't do anything."
"Every little things that you do count as long as it comes from your heart. Nothing is ever too small.
The good intention that you have and your actions of staying up all night, waiting for the hair loss fairy to come are more than enough for me. You are my hair fairy."
Telling stories to children as I used to be a kindergarten teacher in those days or even when
I volunteered as a teacher for a charity organization. Once, one of the children came up to me and
asked as to whether I had seen her tooth. She believed that if she placed her tooth under her pillow at night,
the tooth fairy would come and gave her money. Children are filled with wonder, curiosity and imaginations in their growing up stage.
"Don't run or Mr.Floor will be in pain," telling children as to be more careful when they walked.
"Be more gentle or else Mr.Plate will be hurt,"saying this as to teach the children to handle their food plates with care.
The principal told me about a teacher that used her own way to ask a boy to get up from lying down on the sofa as he wouldn't budge.
She bent down and kissed the boy on his forehead while saying, "The princess had kissed the prince. The prince can now wake up." The boy got up immediately.
Children will have their hair tied up nicely in different styles everyday. Looking at them reminded me of the time when I was their age.
They are my past. When I was small, my grandma will help me to tie up my hair before I go to school everyday.
Going to college then started working, life does change for me. I was no longer a child for now I'm an adult.
Working consume most of the time until sometimes, I just don't have the time to do anything else. It's a work, eat,
sleep cycle of life. At times,
working until one has no time to take care of one's appearance.
So, you can figure that I'll be looking like a zombie with dark circles under my eyes.
But one really need to stop, rest and relax. Life is not all about work. There's more to it – family,
friends, goals, hopes and dreams. So, taking the time off to dress up nicely or style one's hair.
Written By
Angela
Global Hair Solution