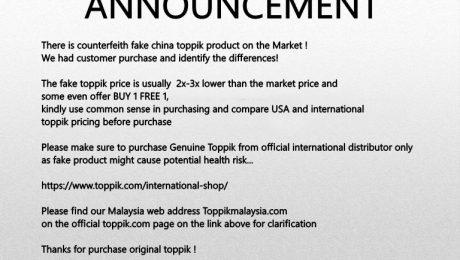 BEWARE OF FAKE TOPPIK PRODUCT IN THE MARKET
( UPDATED MARCH 2017 )
With the proliferation of counterfeit fake Toppik product from Mainland China, a growing number of consumers in Malaysia as well as oversea who use online e-commerce platform to buy Toppik may be at risk for buying fake Toppik product that can result in serious irreversible health complication and risk !

Our Company Global Hair Solution is the Official Exclusive Distributor for Toppik in Malaysia appointed by Church & Dwight /Toppik INC .
If Someone is selling Toppik at a price that too good to be true , they are not from us and sources can be from anywhere which may cause serious health risk!
Always be careful when purchasing good from unknown sources as you may risk getting yourself into purchasing a counterfeith product …..
Please visit our official site from toppik international page and select malaysia to visit our official store
https://www.toppik.com/international-shop/
Note: There is no such claim from other seller such as "OEM ORIGINAL TOPPIK" as TOPPIK DO NOT DO OEM and all ORIGINAL TOPPIK are manufactured straight out from USA FACTORY !
As of March 2017 , we have identify two sizes of toppik hair building fiber had been counterfeited which is the 12G and the 27.5G bottles
Please see the below illustration for detail comparison between fake and original toppik product


NEW PACKAGING AND LABEL UPDATE STARTING JULY 2017
( IN AN EFFORT TO MAKE A MORE DISTINCT DIFFERENCES FROM FAKE BOTTLE , CHURCH AND DWIGHT CO INC HAD INITIATE A NEW LABELING ON ALL TOPPIK BOTTLE STARTING JULY 2017 )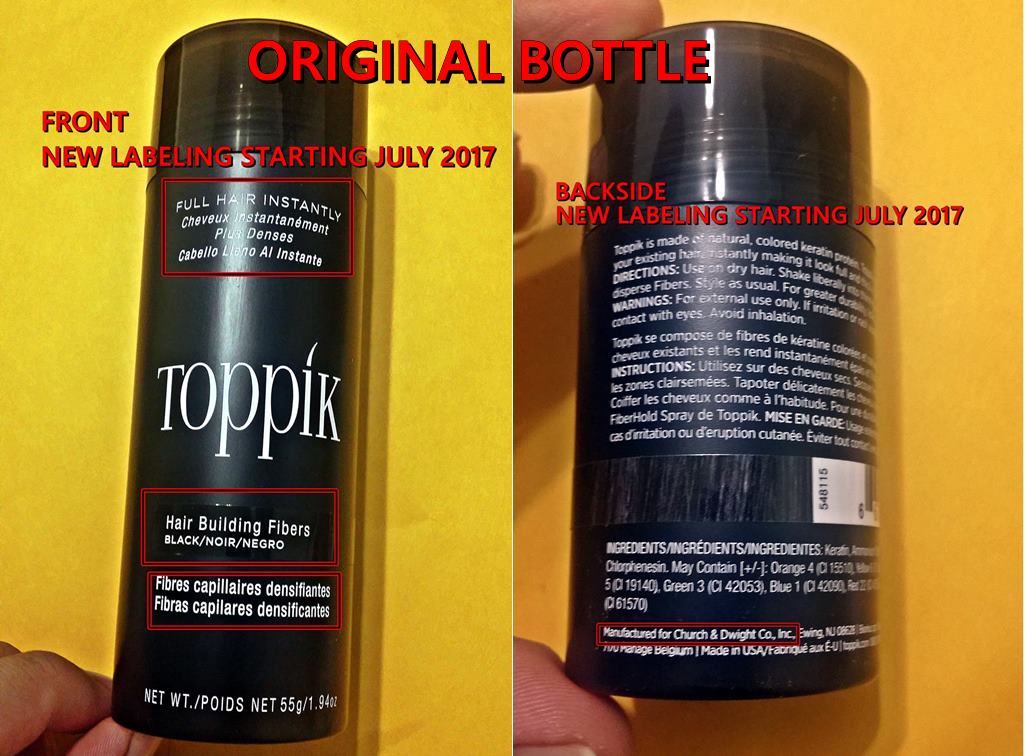 FINDING ON FAKE TOPPIK SOURCES FROM CHINA BASED COMPANY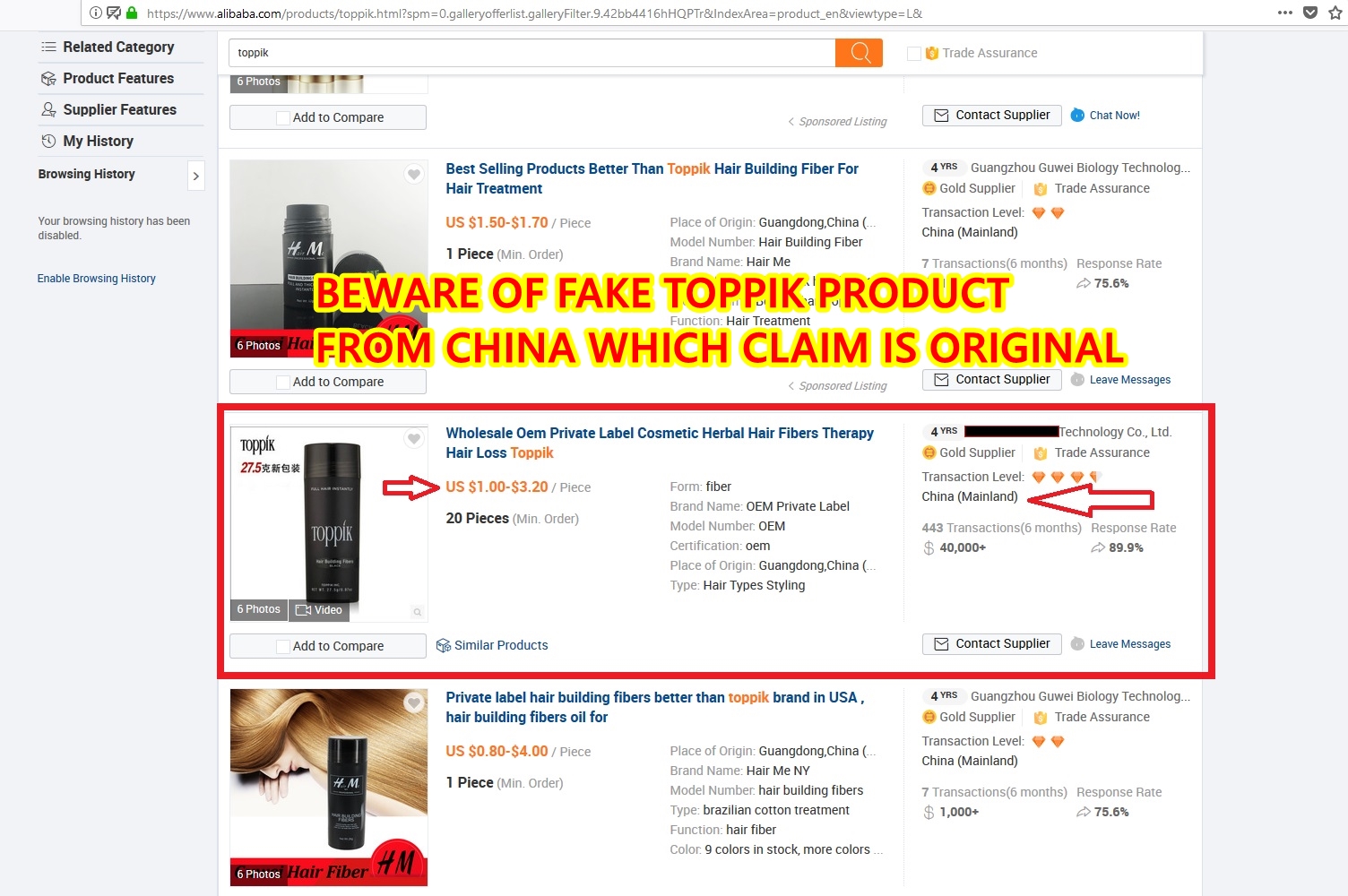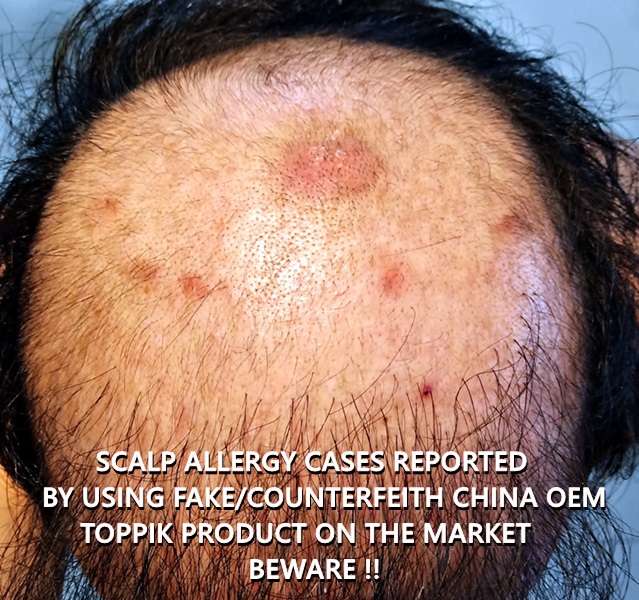 Note: There are counterfeit Toppik/hair fiber product on the market both locally and oversea, and the 3rd party pricing is even lower than our cost price !

If Someone is selling Toppik at cheaper price , they are not from us and sources can be from anywhere which may cause serious irreversible health risk!

BEWARE OF FAKE PRODUCT !
TOPPIK ORIGINAL VS FAKE DENSITY TEST
Original Toppik is made from 99.9% pure keratin protein which had higher density protein thus making the heavier fiber sink to the bottom.
Toppik's pure electrostatically charged keratin protein fiber will bind to strands, creating a fuller looking hair in seconds!
Fake Toppik is made from less quality cheap synthetic material and had less density compare to the original thus making the fiber float.
The differences is obvious !
Be sure to buy toppik only from authorised toppik agent in malaysia ,

(OFFICIAL TOPPIK DISTRIBUTOR MALAYSIA)
-GLOBAL HAIR SOLUTION