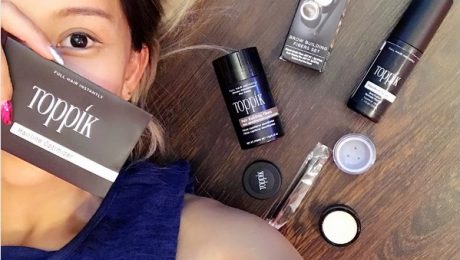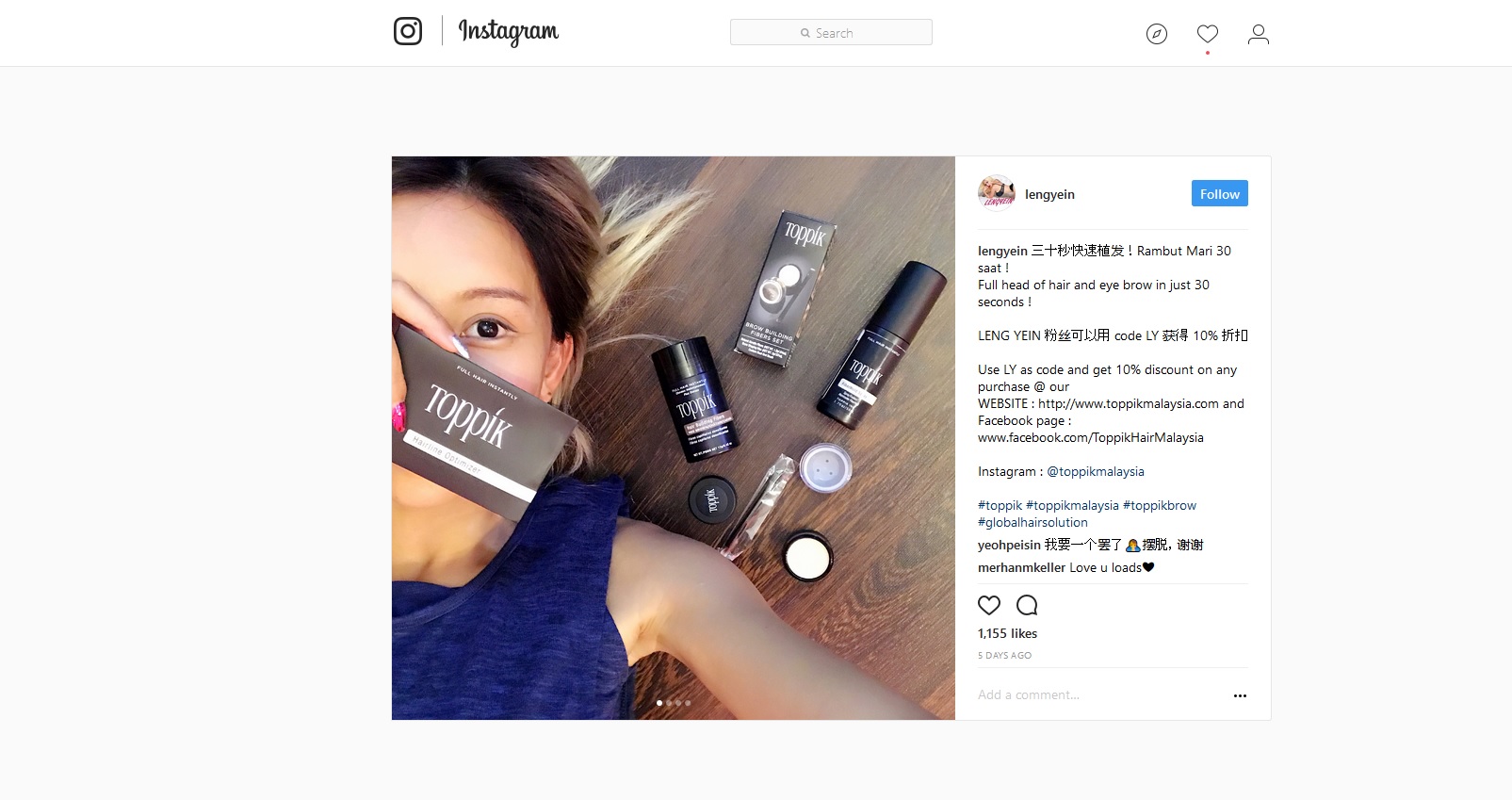 眉毛不美…脱发 … 不用怕 !
Thin HAIR … Thin Brow … No scare ..
Let's use . . TOPPIK !
三十秒快速植发!Rambut Mari 30 saat !
Full head of hair and eye brow in just 30 seconds !
LENG YEIN 粉丝可以用 code LY 获得 10% 折扣 ( valid till end of july )
Use LY as code and get 10% discount on any purchase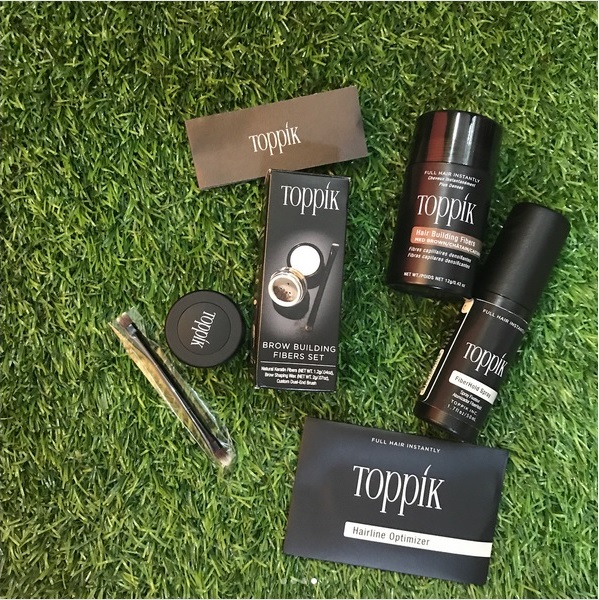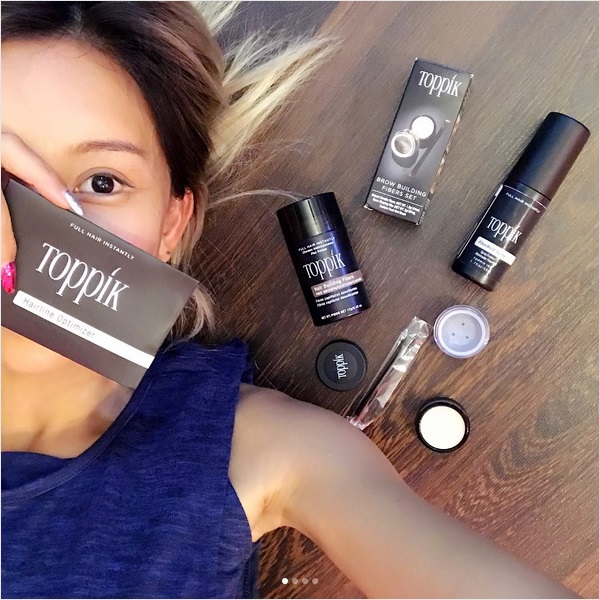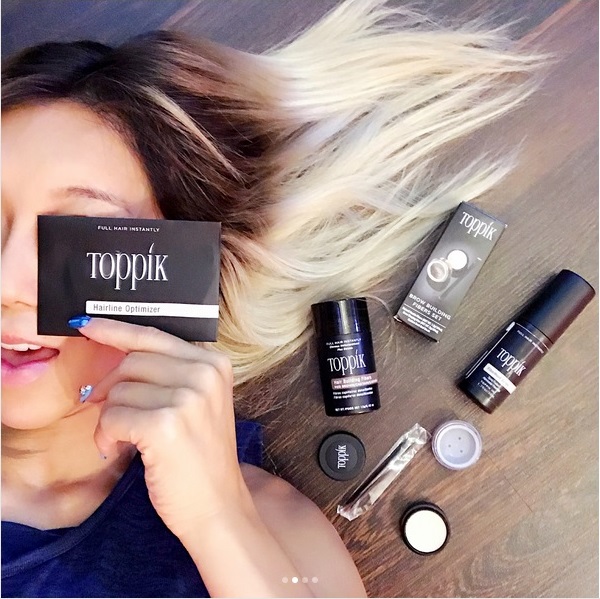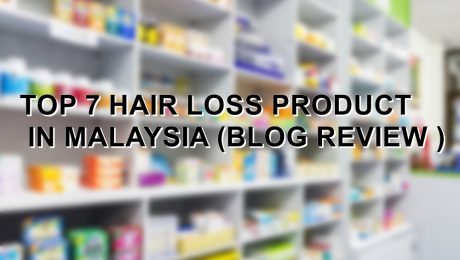 Top 7 Hair Loss Products In Malaysia
Our self image is closely related to the influence of mass media such as television, movies and advertisements. There is no particular guideline in order to be attractive but there are a few common understanding among us about an attractive person. For instant, a female must have flawless skin, big eyes, thick hair, thin yet feminine body figure. For male, you must be rich, muscular body figure and no baldness. As you can see, hair is playing an important role in determining the attractiveness of a person and this is why hair loss product in malaysia such as hair growth tonic,hair growth product and best shampoo for hair loss is such a hit in the local market .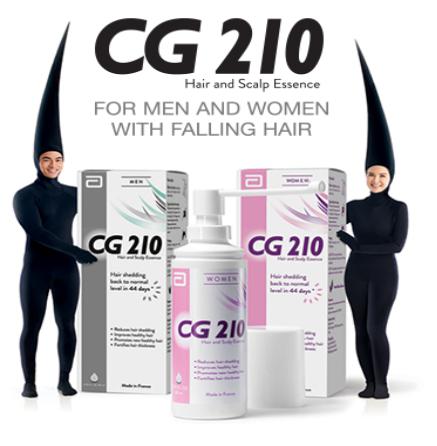 ABBOTT CG210 Hair Treatment for Male and Female
This product is suitable for male and female who are facing hair shedding problem, increase hair vitality, increase hair growth as well as hair volume ABBOTT CG210 is a common hair products in Malaysia and it is clinically proven and hypoallergenic. In fact, it is very easy to be used and it is made of plants extracts.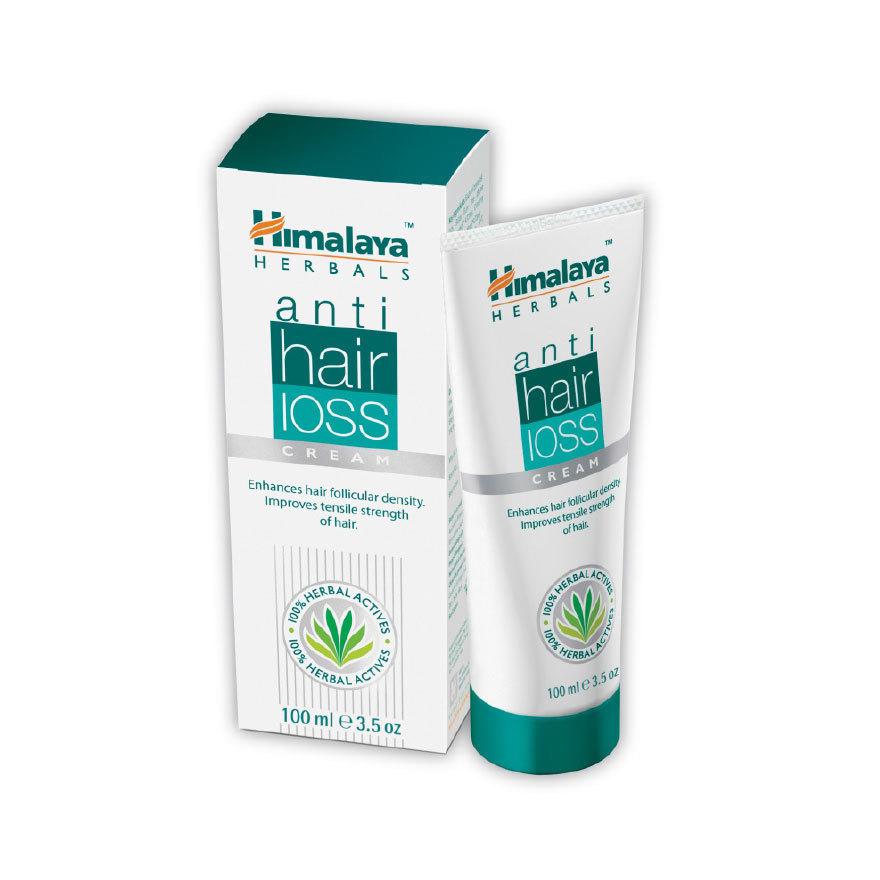 Himalaya Anti Hair Loss Cream
Himalaya is having variety of widely accepted hair products in Malaysia and all over the world. Himalaya Anti Hair Loss Cream is a special, everyday use hair products to reduce hair shed and strengthens hair follicles. It is a formula which contains Bhringaraja and Amla to vitalize your hair from root to tip. Himalaya Anti Hair Loss Cream is one of the popular hair products in Malaysia.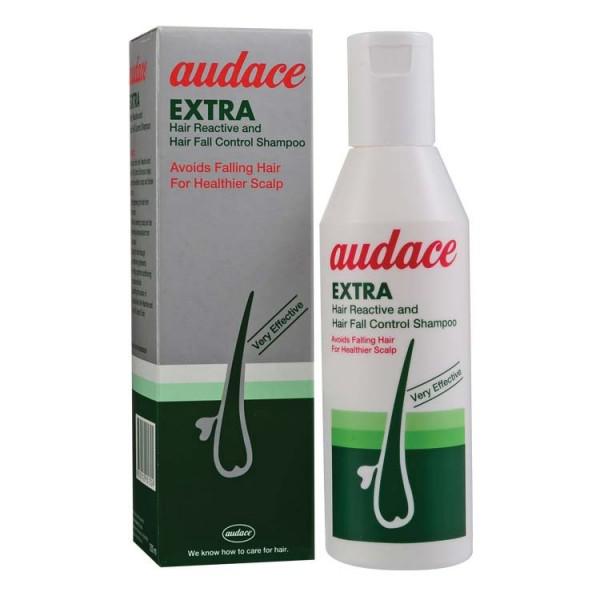 Audace Extra Hair Reactive and Hair fall Control Shampoo
Audace is a hair fall control product which is being researched intensively and developed in Germany. It is being sold as hair products in Malaysia. This product is capable of cleaning the scalp and remove sebum, dandruff and others precipitations. It aims to maintain or improve the scalp healthiness to make your hair thicker and healthier.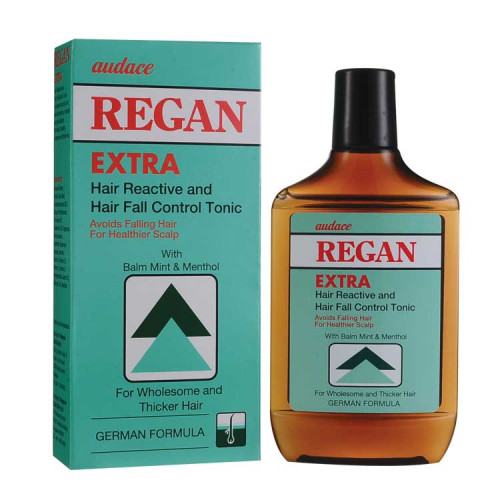 Regan Hair Reactive and Hair Fall Control Tonic 200ml
Regan Hair Reactive and Hair Fall Control Tonic is being formulated to tackle hair shedding problems. It contains vitamins,minerals and other active ingredients to nourish the scalp, which in turn enhancing the forming and growing of hair. You may log on internet for more information about the vitamins and mineral contents of hair products in Malaysia which are helpful in hair growing. This product is able to produce good result and very user friendly.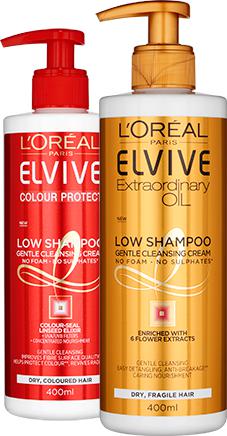 Loreal Elvive Low Shampoo
Suitable for fragile and delicate hair. Loreal provides revolutionary way to clean your hair. Being so different than many others hair products in Malaysia, This cleansing cream is very gentle as it contains no sulphate and foam which is able to condition your hair and wash out impurities in the same time. This product is available in a few variations – Colour Protect Low Shampoo, Extraordinary Oil Low Shampoo and Extraordinary Oil Curl and Nourishment Low Shampoo.


Alpecin Hypo-Sensitive Shampoo
Researched by Dr. Wolff, this shampoo is very suitable for scalp with hypersensitivity Alpecin series are new hair products in Malaysia. It contains mild surfactant complex with glucose surfactants which is able to remove scalp impurities while store moisture to prevent scalp irritation, fortifying scalp skin barrier and monitor scalp healthy balance.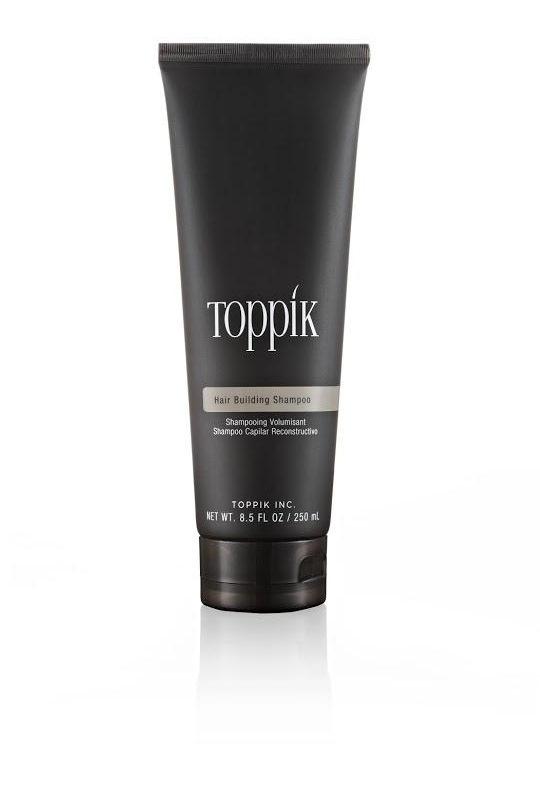 Toppik Hair Building Shampoo
All of the hair products in Malaysia are come with different properties and suitable for many different hair type or even type of scalp. For your information, Toppik Hair Building Shampoo is one of  the best hair loss shampoo in the market. Its effect is proven through multiple research and actual application. Toppik Hair Building Shampoo delivers micronized keratin to your hair shaft to make it fuller and thicker. In fact, it is very effective in stimulating hair growth as well as preventing hair loss.
Hear out the users opinion at www.toppikmalaysia.com/blog.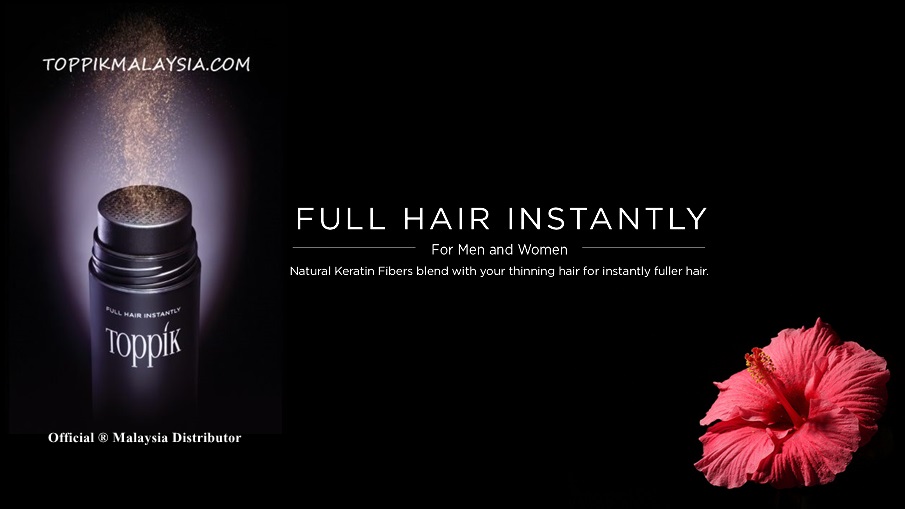 If you re looking for a instant solution to hair loss, you may try our toppik hair building fiber which give you FULL HEAD OF HAIR IN JUST 30 SECONDS !
Find out more quality products of Toppik at www.toppikmalaysia.com and just login to www.toppikmalaysia.com/shop if you are interested to purchase Toppik Products.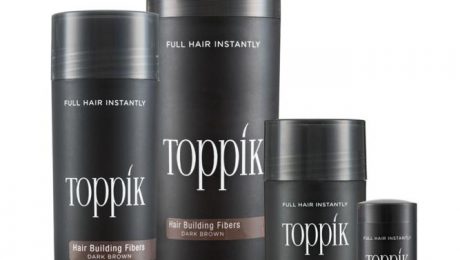 REVERSE HAIR LOSS APPEARANCE WITH TOPPIK HAIR FIBERS
Toppik is undeniably one of the most well-known hair companies which specialises in hair loss. It is most definitely not unheard of, especially amongst those dealing with hair loss as at the very least, they would have stumbled upon the company online if they do their research thoroughly. Toppik products originate from the United States and their products have gained massive demand, hence the availability of Toppik products in other countries like Australia, the UK and Malaysia.
One can visit www.toppikmalaysia.com/blog to learn more about our local Toppik story.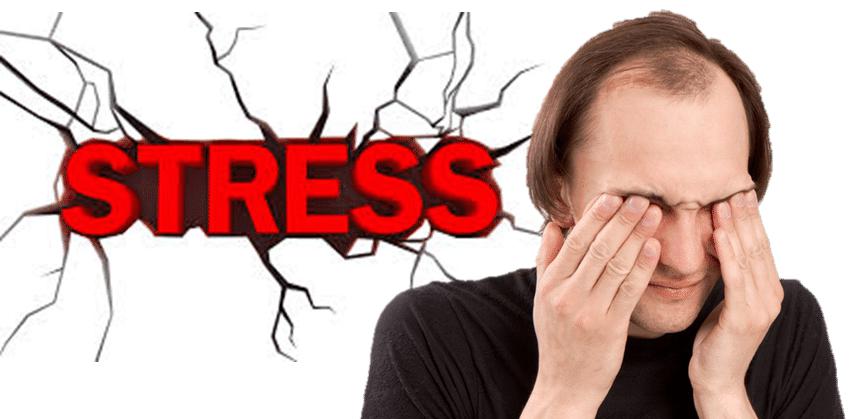 "Why even the need for these products?", one may ask. Toppik understands that in today's day and age, the workforce participation is getting stronger. Businesses are at a low while inflation is at a high, prices keep rising and rising but the only thing still not rising is…income. People therefore need to work their tails off to cope with such economic condition. And as one would anticipate, work inevitably comes with a lot of stress. People are working overtime for most days, retirees don't retire as young anymore and these issues may be one of the causes to hair loss, aside from genes and diet. Toppik recognises this and therefore, Toppik wants to be the platform to help those unfortunate ones in the most natural and economical way possible, hence the special offers from time to time at www.toppikmalaysia.com/shop/.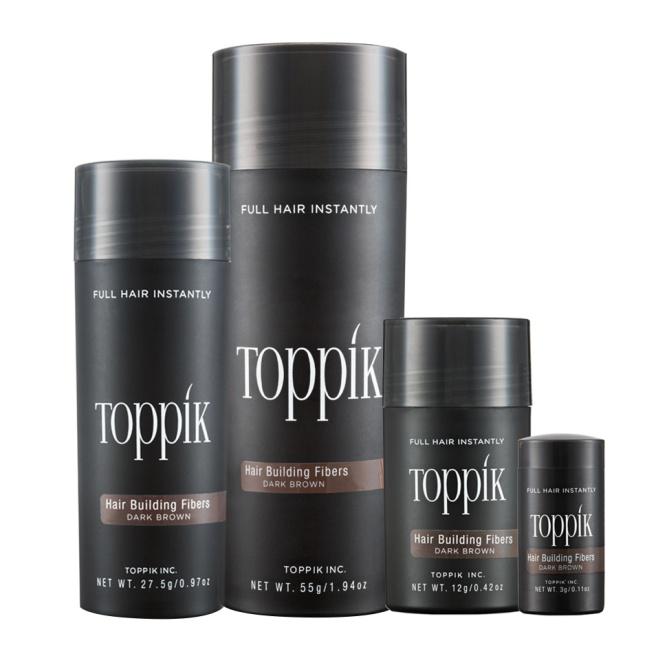 This is where Toppik introduces you to many of its finest products, one of them being Toppik Hair Fibers. These are hair building fibers that can replenish all hair loss, whether bald spots, patches or even receding hairlines. In other words, they add volume to your hair again so that hair thinning is very much minimised.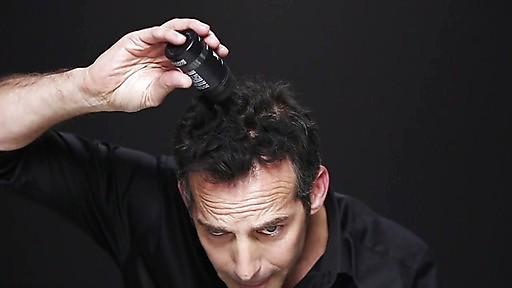 If those dealing with hair loss problems were given an option, they would definitely want to solve them in the fastest, cheapest (or at least most reasonable) and safest way. This alludes to Toppik Hair Fibers. It doesn't require any form of surgery, chemicals or drugs. All that needs to be done is to self-apply the product to the desired area and you can already start to see immediate results. To further add to the convenience, no expert or specialist is needed whatsoever. People would also be satisfied to know that the fibers stay firmly in place or even if not, it can easily be touched up. They only come off when vigorous force is exerted, such as when one shampoos their hair.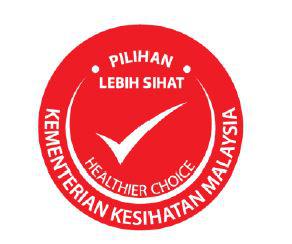 Naturally from the customers' perspective, their ultimate concern would be the product's effectiveness. Other concerns would be merely secondary. The bonus of using Toppik Hair Fibers is that even the secondary concerns are taken care of. This includes it being wind, rain and sweat resistant, as well as the availability of many shades to match the customers' existing hair colour. Also, the product is approved by the Ministry of Health in Malaysia, thus already proven and tested to be harmless. Further concerns and enquiries can be seen at www.toppikmalaysia.com/faq/.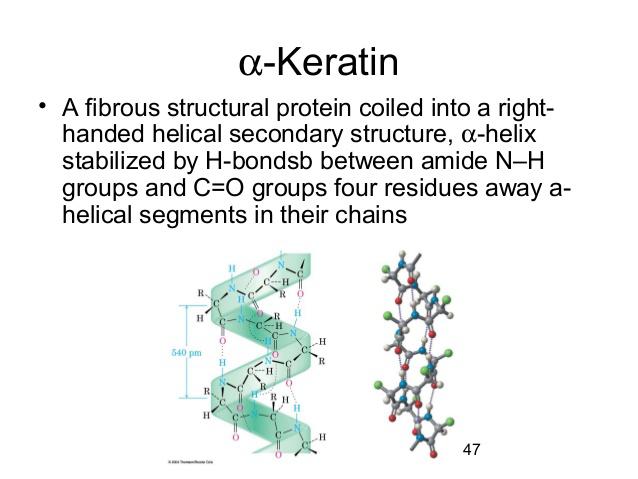 As to the workings of these hair fibers…the main ingredient would be Keratin, a fibrous protein which makes hair fibers blend naturally with the existing hair. They are also said to be hypoallergenic, thus no form of scalp irritation whatsoever. This is to be contrasted with cotton hair fibers which are typically cheaper than Keratin.
The many testimonies by customers speak for themselves here at www.toppikmalaysia.com/before-after/.  With that, it is evident of the product's strength to cure hair fall and does so with pleasant experience. Toppik Hair Fibers is THE smart choice to make in the adversity of alopecia. The cure to your hair loss misery is just one click away at www.toppikmalaysia.com.
written by
Emily