Tuesday, 19 February 2019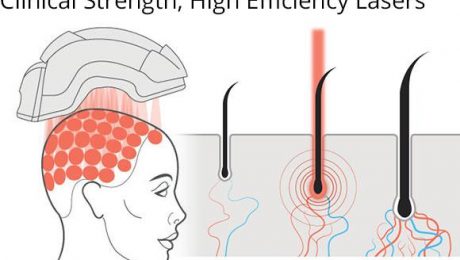 Top 10 Laser Hair Loss Treatment Devices (LLLT)  For Hair Growth In Malaysia 
With so much information out there about hair loss treatments, LLLT is considerably new in the industry. So, buying a hair growth laser device may sometimes be confusing. It doesn't have to be, since we have ranked them for you. Here are our top ten picks of laser hair loss treatment devices.

1.HairMax by Lexington

HairMax had always been the World leading Premium brand in LLLT hair loss treatment .If you re looking for the highest class of laser hair therapy,this is the ultimate go-to brand for low level laser hair loss therapy. With options of laser combs, laser bands and laser caps, all their devices are lightweight and comfortable. HairMax laser devices include a patented hair parting teeth mechanism for maximum delivery of laser light energy to hair follicles. Each gadget comes with a full package of charging stand/cable, rechargeable battery, power cord, user manual, and a 2-year warranty. Their devices have high laser densities, fast treatment time and more coverage per square inch compared to other products in the market. Clinical results have proven their effectiveness and credibility.
Visit www.hairmax.com.my for more info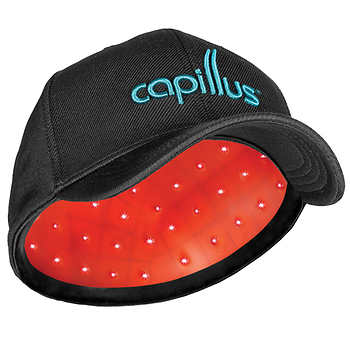 2.Capillus
Launched in 2012, Capillus Laser Therapy Caps come in three models: Value, Mid-Range, and Premium. These categories are differentiated by the amount of coverage offered through the number of laser diodes on the device. These laser therapy caps are hand-made in the USA. Users may use the hat provided or tuck it underneath a baseball cap for discreet use. The recommended treatment time is six minutes every day. However, the design does not feature hair parting teeth to allow light to reach the scalp. Also, coverage is limited as the light does not reach down the sides of the scalp.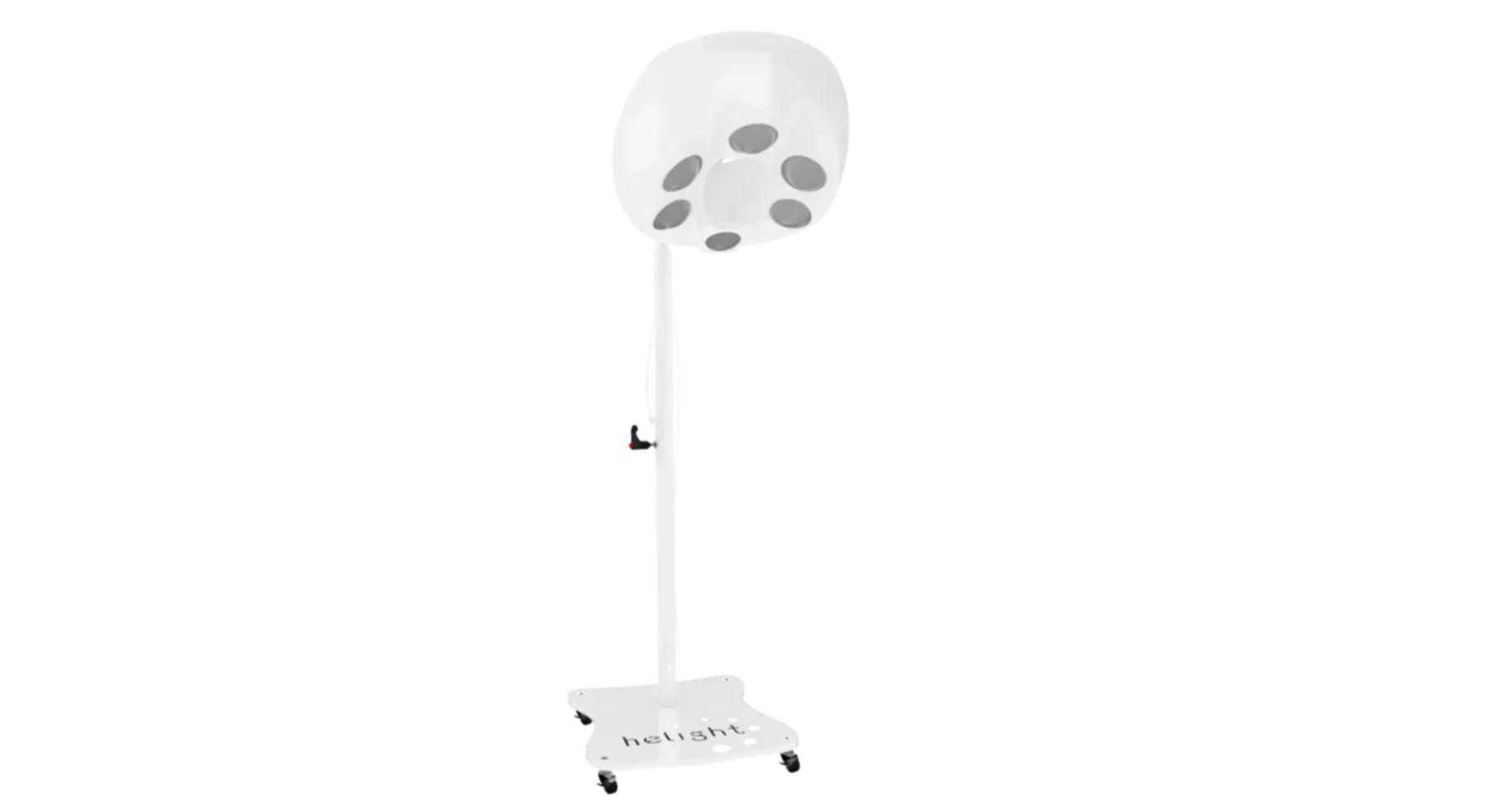 3.Helight
In accordance to the protocols designed and programmed by the team's scientific experts in France, Helight™ PRO is a non-medical device used in short sessions of 5 to 15 minutes on not just the hair, but on other body parts as well. Although highly effective for top-to-toe treatments including hair growth, the device takes up space and is costly for consumers who only want a simple device in their home. Helight™ PRO is more suitable for the use of beauty staff at spas and hair treatment centres.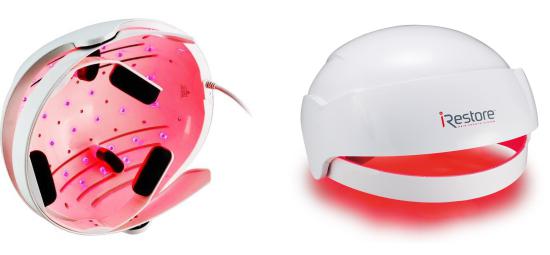 4.iRestore
The iRestore Laser Hair Growth System is designed to be durable and hands-free. They claim to have 100% success rate in one of their clinical tests, with an average increase of 43.2% terminal hair count. The drawback to this is that the device is recommended to be used for 25 minutes on alternate days, which is a relatively long period, considering that there are other devices available that do not need that long of a usage time.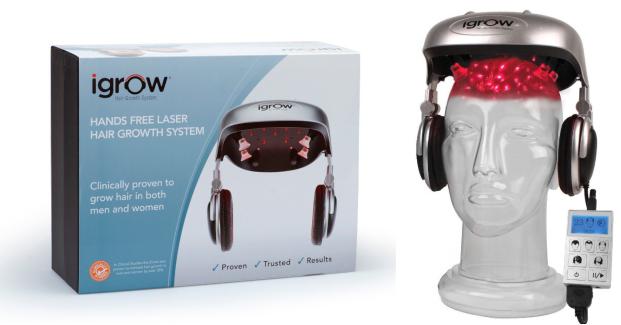 5.iGrow
In clinical studies, iGrow was proven to increase hair growth by over 35% in men and women. Their device uses medical-grade LEDs and laser diodes. iGrow makes sure the treatment is consistent by using an A/C power source and utilising four adjustable spacing columns to deliver the suitable light energy dosage to the scalp. Moreover, they have undergone strenuous consumer and regulatory testing such as bio-compatibility testing to ensure the components are safe on human skin.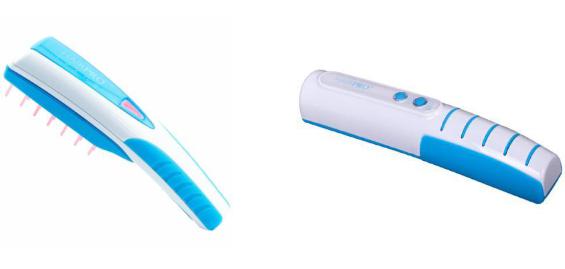 6.Viatek HairPro
The Viatek HairPro Luxor Laser Hair Treatment System and the Viatek HairPro Laser Hair Brush operate under dual technology, using Low Level Laser Technology (LLLT) and LED stimulating therapy (LEDT). These light sources provide different degrees of scalp coverage with the red stimulating lasers. The laser light reflected across the entire length of the device gives a consistent beam for effectiveness.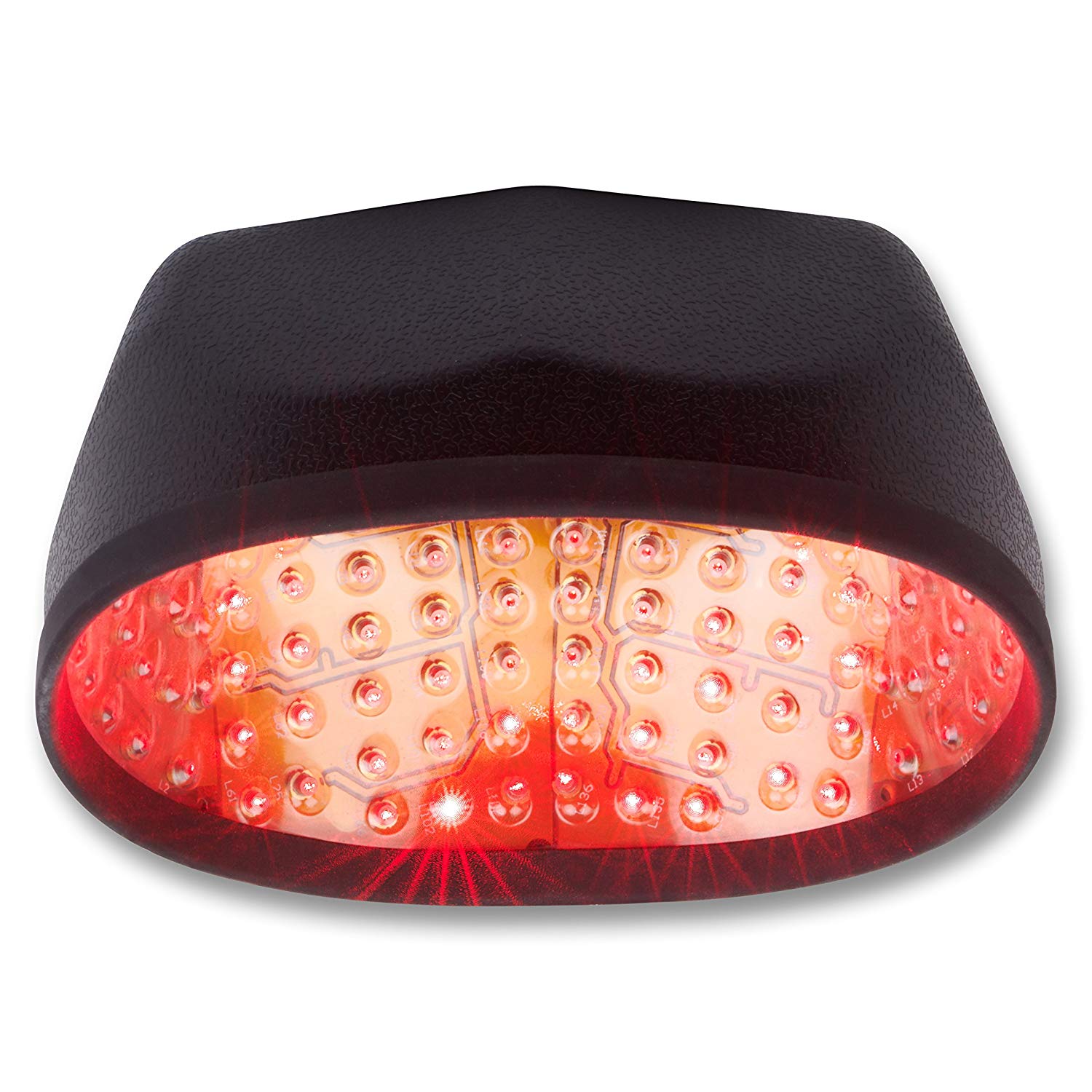 7. Illumiflow Laser Helmet for Thinning Hair
The illumiflow laser cap is identical of that coming which come from Capillus. They both offer a comfort and easy to wear shape to match your head shape. Also, the illumiflow is FDA-cleared for safety as a Class II Medical Device. The illumiflow has 272 laser diodes that bathe your head with 650nm light. All you need is 20 to 30 minutes three times a week. While you wear it, you can perform other tasks, too.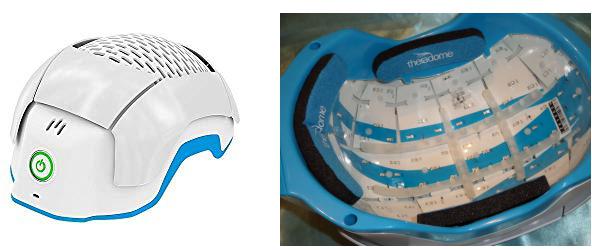 8.Theradome
This device has won multiple awards in 2017 and 2018. Theradome® Laser Hair Growth Treatment is cordless and rechargeable, has a voice guided treatment tracking system, and has a one-size-fits-all design. The optimized wavelength of the lasers is set at 680 nm for maximum energy absorption.


9.Nutreve
Nutreve Personal Hair Therapy Laser uses pulsed wave technology. The pulsed laser diodes penetrate keratin fiber to deliver light energy better compared to constant wave technology. Since the device contours naturally to the scalp, it does not tire the user's hands as easily as other gadgets. The laser is classified under 3R; low powered and safe.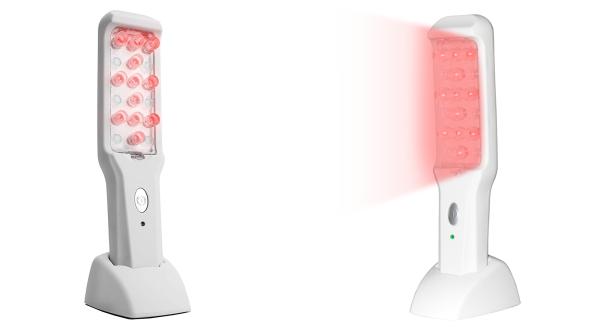 10.NutraStim
The NutraStim Professional Hair Growth Laser Comb is packed with 12 lasers and equipped with the technology to guide usage. There will be a beeping sound every 4 seconds to prompt the user to move the comb to the next spot. Since the recommended frequency is 3 times a week for 8 minutes, the device will automatically shut off after 8 minutes, which adds convenience to the product.
Tuesday, 19 February 2019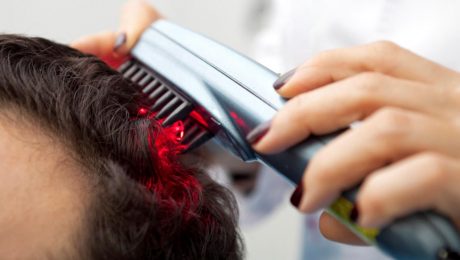 Laser Hair Loss Treatment in Malaysia (LLLT)
Laser Hair Loss Treatment, or Low-Level Laser Therapy (LLLT) is one of the latest Nano technologies of hair loss treatments. There has been plenty of clinical research done by doctors on LLLT to discover the benefits and improve the process in recent years. Due to its success, LLLT is now practised by developed countries such as New Zealand, the UK and USA. Read on to find out all you need to know about LLLT.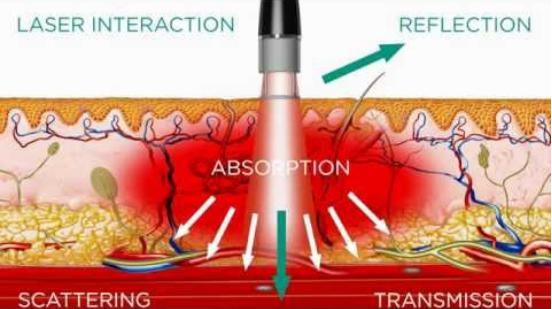 What is LLLT?
It is a safe form of light/heat treatment used to treat hair loss usually caused by genetic factors in men and women, such as androgenetic alopecia or pattern balding. From the name Low-Level Laser Therapy, a low dose of light is emitted towards the scalp to stimulate natural processes in our body for the benefit of faster hair growth. Other names LLLT are red light therapy, soft laser, cold laser, biostimulation and photobiomodulation.


How does LLLT work?
The light energy in LLLT is set below a specific energy threshold and within a specific wavelength (630-670 nanometers) for a safe yet focused treatment.  The photons of light lead to the production of ATP, which is used to create energy and stimulate metabolic processes for hair growth. This enhanced cellular activity triggers new cells to be rapidly reproduced to grow new hair. Besides that, blood flow is increased in the scalp to enable distribution of oxygen and nutrients to the hair roots. Weakened and dormant hair follicles can be energized and awakened to grow denser, fuller, and stronger. Also, LLLT prevents the excessive build-up of DHT, which is one of the causes of hair loss.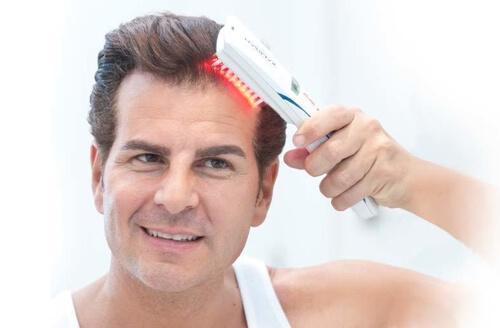 What are the benefits of LLLT?
Low level laser therapy can be used in both men and women. Furthermore, it is painless, easy to use, clean and does not have harmful side effects. The light emitted does not produce any heat, and therefore will not cause damage to the skin or hair follicles. Not only that, hair growth is possible in areas difficult to regrow hair such as the top of the head/crown and along the hairline. Results can be seen in as soon as 3 to 5 months, with reduced hair fall and noticeable hair growth. Additionally, LLLT is affordable and has high value for money because it is a one-off cost which allows you to use the device as many times as desired. Moreover, LLLT requires minimal time commitment. Only two to three times weekly treatments are needed, which consist of 8 to 15 minutes of exposure. It is convenient for anyone with a busy schedule and does not require any medication, surgery, or messy application of substances. This non-invasive and non-toxic approach is truly a revolutionary breakthrough for people who do not want to perform risky procedures, or for achieving better results together with the usage of other hair growth products.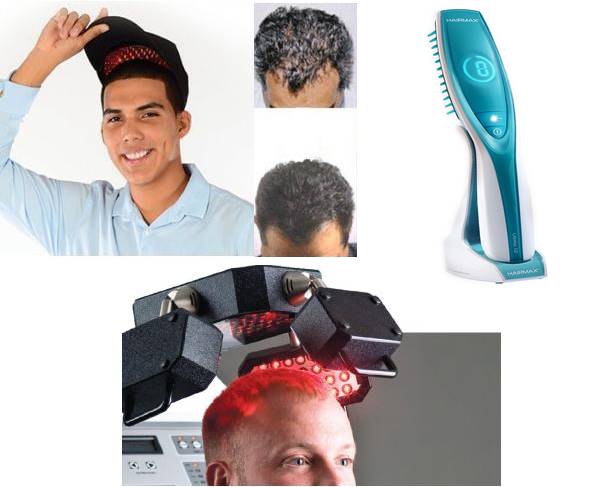 Where can you find LLLT?
There are several types of devices that provide LLLT, such as in-salon overhead panels or hoods, head caps and handheld gadgets. One of the most common devices used is the portable handheld laser comb, whereby battery powered models have up to 12 beams of red light that pass through the teeth of a comb. Bonnets, or laser therapy helmets may vary from bulky machines to headpieces that can fit under a baseball cap. These appliances run on battery or require an electrical outlet, which is the only resource needed to perform the treatment.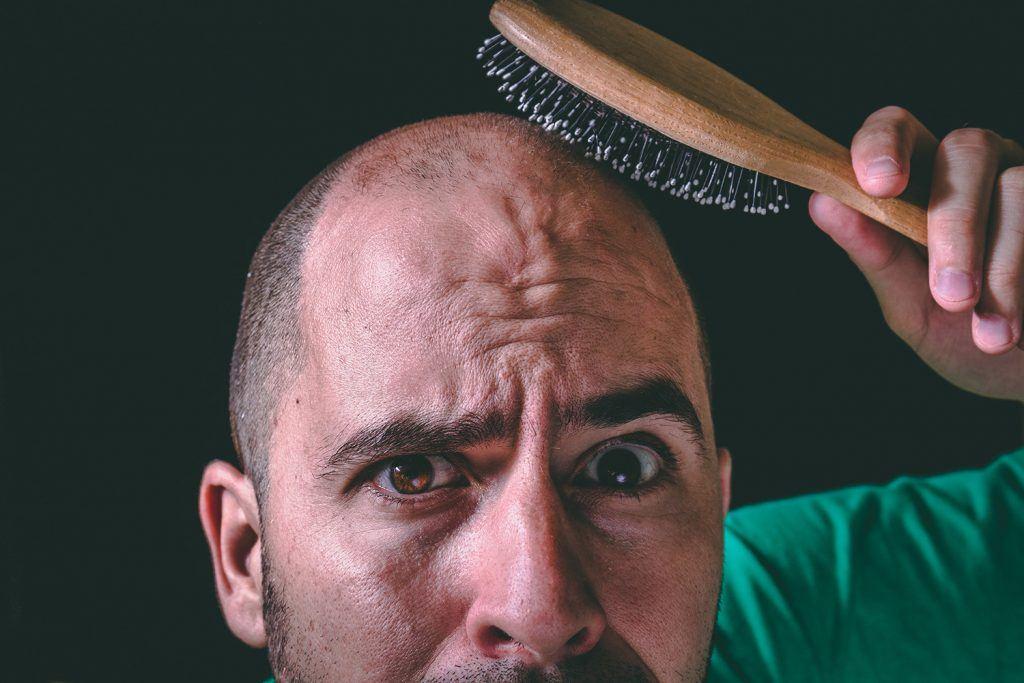 Warnings and precaution
As this therapy takes time and patience, LLLT is not for people who are looking for an instant solution to grow hair overnight. Although LLLT has little to no drawbacks, care must be taken when the user is on medication. This is because light therapy should not be used concurrently with medication or products that are photosensitising, which may cause unexpected sunburn or skin inflammation. To protect the eyes, the laser light should not be directly stared at. Another thing to take note is that LLLT will not work on a completely bald head, or people who have been bald for years, because hair follicles that are no longer alive cannot be revived.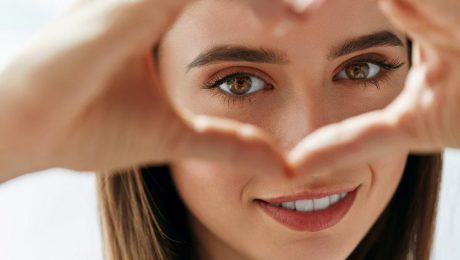 Top 10 Eyebrow Transplant Centres in Malaysia
Not all of us are blessed with thick, lush eyebrows. So, we may try to seek professionals to provide us solutions for the perfect pair of brows. One of the methods is getting eyebrow transplants. Of course, they take time, but we all know that growing them naturally is the only way to get natural results. You can't get any better real brows than having real hair transplanted into exactly where you want them to be. Nevertheless, Malaysia has quite a handful of experts in this field, giving you the perfect arches without having to worry if they do not look realistic enough. After all, they are your own hair, just planted into the desired place for them to grow beautifully. Here are some of the best places to go to for an eyebrow transplant.


Dr. Ko Skin Specialist
This name needs no introduction, as their presence is all over the country with more than 25 branches in total. Their team is aware that an eyebrow transplant is a very delicate procedure, requiring perfect placement of hairs angled at the right direction to mimic natural growth. You can consult their doctors through their hotline and email available at their website.

Cheong Plastic Surgery Specialist Clinic
Being specialised in aesthetics makes this clinic focus on beauty and precision. In their hair transplantation practice, they utilize the follicular unit extraction (FUE) technique. With this method, instead of making incisions, donor hair follicles are extracted one by one in the donor area. Hence, there will be no surgical scars left behind in the donor site. They provide useful information on the steps taken before, during and after the procedure. The clinic is situated in Cheras, KL.


Premier Clinic
In their dedication to their services, their website has an article to explain the process of their FUE hair transplant procedure for the eyebrows, complete with contact information and a video. Clients can easily call, Whatsapp, email, or even chat live on the Premier Clinic website. Not only that, they have detailed information on their locations and even directions on the available spaces to park at. This user-friendly and transparent approach makes them one of the top clinics to visit.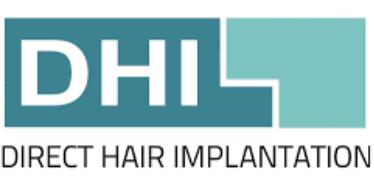 DHI Malaysia
DHI is recognised throughout the global network with regards to their eyebrow restoration services. Their technique is called Direct Hair Implantation (DHI) as explained with 5 steps: Design, Calculation, Extraction, Implantation and Growth. They have listed out the benefits of the procedure and offer a free online assessment and quote on their web page.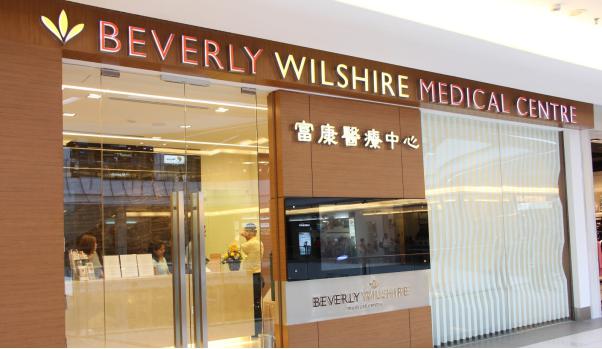 Beverly Wilshire Medical Centre
They offer only FUE hair transplants, as they want the best for their clients. This is because the other technique, FUT, would result in scars. Although their website information on their procedures generally relates to the hair on the head, they perform eyebrow transplantations as well. Besides having centres in the area of Kuala Lumpur, Beverly Wilshire Medical Centre also has a centre in Johor (JB).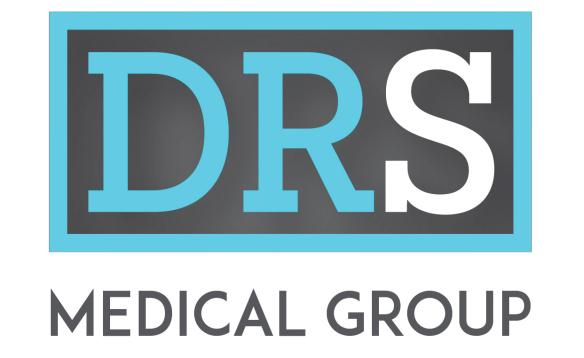 Dr. Shah Clinic (DRS Medical Group)
Although they do not exclusively promote their eyebrow transplant services online, people have recommended Dr Shah in forums, explaining that for 100-200 strands, this procedure is affordable, and the results are great. You can trust Dr Shah with his noteworthy reputation in the industry. Dr Shah clinics are situated in states such as Selangor, Pahang and Johor.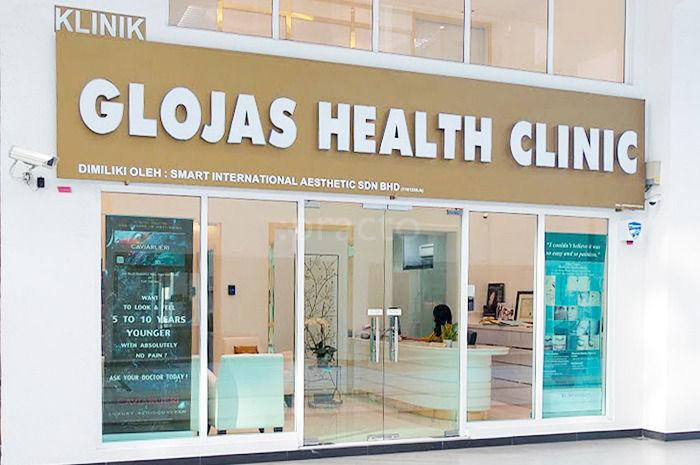 Glojas Smart International
Dato' Dr JasG has been in the industry for over 20 years. Together with his team of professionals, they ensure that the brows are recreated according to the individual's desired shape, thickness and length in the utmost comfort and quality. Their thousands of excellent reviews prove that their customers are very satisfied with the team's services.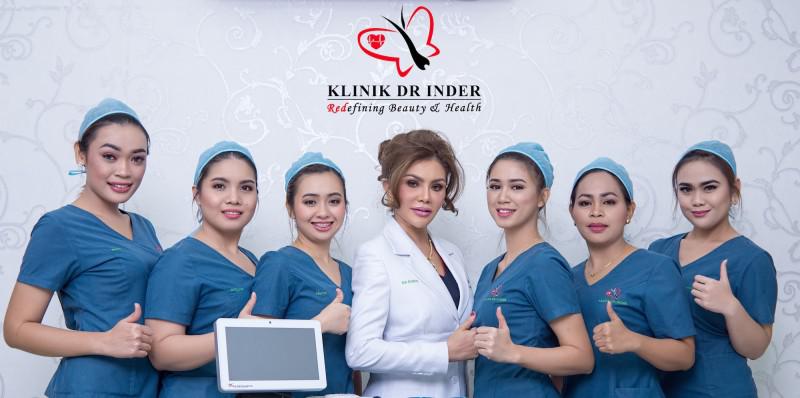 Klinik Dr. Inder
With more than 30 years of experience, Dr Inder is well known for her work ethic and her amazing all-female team. Their teamwork and skills are highly praised by the public. Their success can be seen by the requirement to book appointments early as they are fully booked for long periods.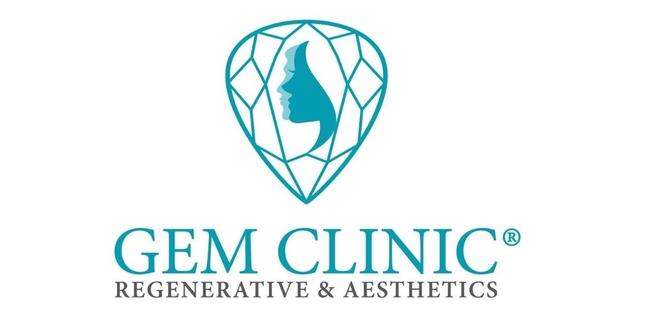 Gem Clinic
Gem Clinic is a medical aesthetics clinic established since 2015. Although they are relatively new, their eyebrow transplant service is one of the popular treatments among the community. Not only that, besides the Klang Valley, they have a clinic in Sitiawan, Perak. This provides convenience to Nothern Malaysians.


Dr.Ruban's Skin & Hair Clinic
This clinic offers both the FUE and the follicular unit grafting (FUG)/strip procedures. They make sure that they are careful in the making of recipient sites for the hairs that will determine the direction and angulation of growth. Besides that, they care in the aesthetic designing to create natural appearing eyebrows that complement the rest of the patient's facial features. Their locations are at Bangsar, Cheras and Petaling Jaya.
———————————————————————————————————————————-
For natural eyebrow make up, try our Toppik Brow Building Fiber !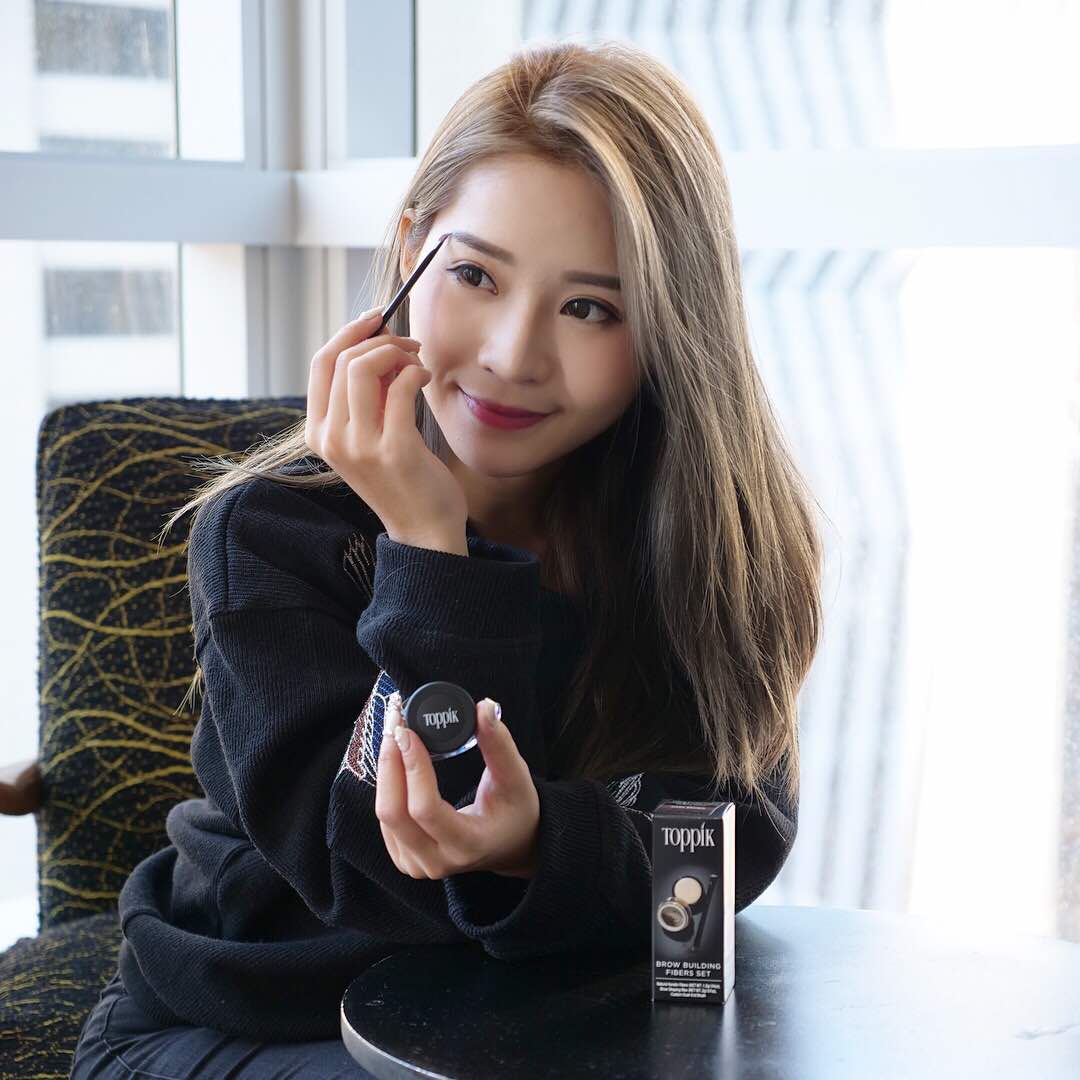 The toppik nano fiber make your eyebrow dense and thick like you re born with it !
Instead of using conventional coloured method ,our toppik brow building fiber archieve the natural effect by using proprietary blend of ingredient utilizing nano fiber technology, the small keratin protein fiber bond to your existing eyebrow making them look thick instantly and feel exactly like your original eyebrow because our fiber look like baby hair and thats is what your eyebrow look like !