BEWARE OF FAKE TOPPIK PRODUCT IN THE MARKET
( UPDATED MARCH 2017 )
With the proliferation of counterfeit toppik product , a growing number of consumers in malaysia as well as oversea who use online e commerce platform to buy toppik may be at risk for taking fake toppik product that can result in serious health complication and risk .

If Something Cost 30USD++ (4.5 exchange rate)  Exclude Shipping IN USA is Selling At RM30 in Malaysia Without Even Add On Compulsory Import Tax by Malaysia Custom….
WHAT DOES THAT MEANT TO YOU ? Hmm….YES YOU RE RIGHT ! IT DIDN'T MAKE SENSE !!
We Global Hair Solution is the Official Exclusive Distributor for Toppik in Malaysia ,If Someone is selling Toppik at a price that too good to be true , they are not from us and sources can be from anywhere which may cause serious health risk!
Always be careful when purchasing good from unknown sources as you may risk getting yourself into purchasing a counterfeith product …..
As of March 2017 , we have identify two sizes of toppik hair building fiber had been counterfeited which is the 12G and the 27.5G bottles
Please see the below illustration for detail comparison between fake and original toppik product

NEW PACKAGING AND LABEL UPDATE STARTING JULY 2017
( IN AN EFFORT TO MAKE A MORE DISTINCT DIFFERENCES FROM FAKE BOTTLE , CHURCH AND DWIGHT CO INC HAD INITIATE A NEW LABELING ON ALL TOPPIK BOTTLE STARTING JULY 2017 )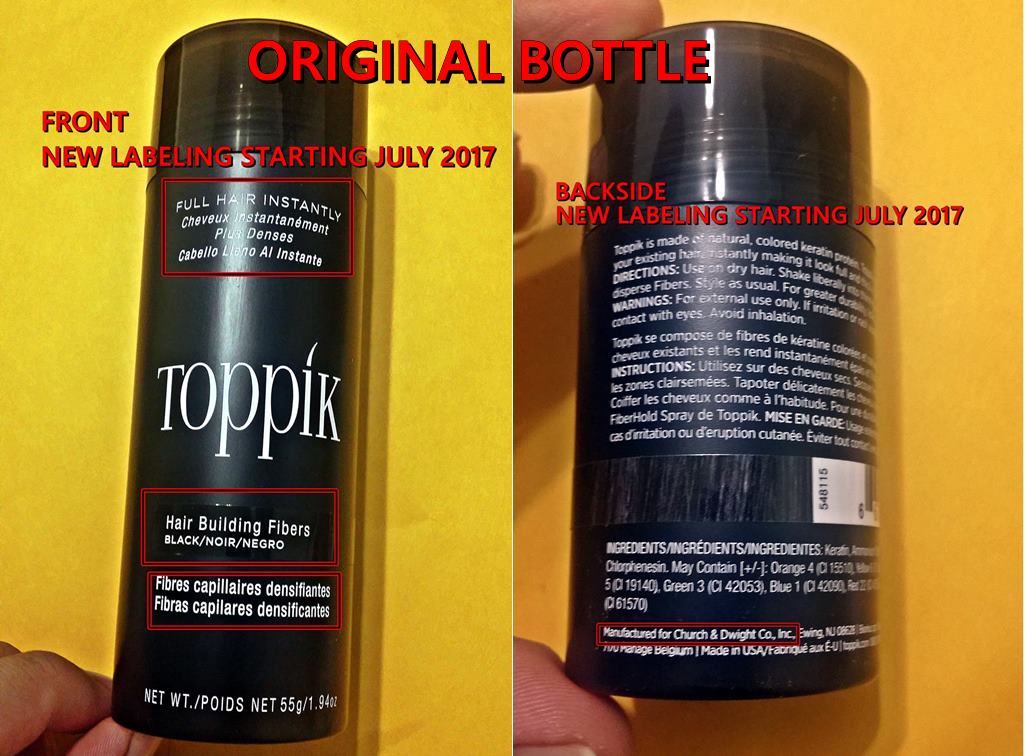 FINDING ON FAKE TOPPIK SOURCES FROM CHINA BASED COMPANY
Note: There are counterfeit Toppik/hair fiber product on the market both locally and oversea, and the 3rd party pricing is even lower than our cost price ! WE HAVE BEEN IN THIS BUSINESS FOR OVER 5 YEAR BEING THE ONLY EXCLUSIVE OFFICIAL DISTRIBUTOR FOR MALAYSIA, from head to toe, we know best what's the real offer is, there is NO CHANCE the pricing can be so much cheaper !

If Someone is selling Toppik at cheaper price , they are not from us and sources can be from anywhere which may cause serious health risk!

BEWARE OF FAKE PRODUCT !
Be sure to buy toppik only from authorised toppik agent in malaysia ,
please see the list below
TOPPIK WALK IN PURCHASE RETAIL
Atmosphere Hair Saloon @ PUBLIKA MALL
A1-UG1-07, Solaris Dutamas,
No.: 1, Jalan Dutamas 1,
50480 Kuala Lumpur,
Malaysia.
T: +6 03-6207 9198
F: +6 03-6211 9978
BEVERLY WILSHIRE CLINIC @ TROPICANA CITY MALL PJ
Lot L1-03, Level 1,
Tropicana City Mall,
3, Jalan SS20/27,
47400 Petaling Jaya, Selangor D.E
Tel: +6 03-77258890
email enquiry: dr.chwong@beverlywilshiremedical.com
Creator Hair Saloon @ Kota Damansara
Contact: 03-61410288 03-61410288 (Angel)
No 22-1,Jalan PJU 5/10, Dataran Sunway ,Kota Damansara
,47810, Petaling Jaya , Selangor
VIVID SHINE MARKETING SDN BHD
(VIVID LAND @ SUNGAI WANG PLAZA)
Contact: 0172860750 (Elliana)
Lot T030, 3rd floor , Sungei Wang Plaza ,
Jalan sultan ismail, 50250, Kuala Lumpur
MICO HAIR SALON @ AEON CHERAS SELATAN
Contact: 03-9076 1289
1ST FLOOR , 30F, Aeon Cheras Selatan Shopping Centre,
Selangor, 43200 Balakong, Malaysia
PATRICK LEE HAIR and BEAUTY SALOON @ CENTRE POINT SABAH
Contact: 088-241578088-241578
D29-31, Centre Point 3rd Floor , 88000 Kota Kinabalu,Sabah
INSPIRATION HAIR SALOON @ 1 BORNEO
Contact: 088-448813088-448813 / 014-3708633014-3708633
F-327, 1st floor, 1 Borneo Hypermall,Jalan Sulaman,
88400, Kota Kinabalu, Sabah
K SASSOON HAIR STUDIO @ JELUTONG
Contact: 012-4323768012-4323768
9-1-16, Taman Kheng Tian, Business Centre,
Jalan Van Praagh, 11600, Penang
G'SISS HAIR SALON @ BAYAN LEPAS
Contact: 04-645168904-6451689
1-1-16, Krystal Point, Lebuh Kecil 6,
11900 Bayan Lepas, Penang
Franco Hair Salon @ KSL MALL
Contact: 07-3313616 (Franco)
Lot L2-16, Level 2, KSL CITY , PTD 11840,
Jalan Serigala, Taman Abad , 80250, Johor Bahru, Johor
Take Team Hair Salon @ SUTERA MALL
Contact: 07-5505297/ 07-5560502 (Kimi Lee)
L1-053 and 54 SUTERA MALL , No 1 , Jalan Sutera Tanjung 8/4,
Taman Sutera Utama ,81300 Skudai , Johor Bahru ,Johor
MICO BEAUTY SALON @ AEON BIG BANDAR TUN HUSSEIN ONN
Tun Hussein Onn, 43200 Cheras, Selangor, Malaysia
Tel: 0162937132 (Patty)
Diana N Dom Hair And Makeup Studio @ Setia Walk Puchong
Setia Walk, Blok D-3-1, Persiaran Wawasan, Pusat Bandar Puchong, Selangor, 47100 Puchong, Malaysia
Phone:+60 3-5879 0131
Star Cut Hair and Beauty Saloon @ PLAZA MONT KIARA
Block E , 0G-09B,Ground Floor , Plaza Mont Kiara 2 , Jalan Kiara ,50480, Kuala Lumpur
0362059663
Essential Hairdressing
G10 , precint 88, jalan urat mata, tabuan heights , 93350 , Kuching , Sarawak,Malaysia
Cutting Edge Hair Salon
68 and 69, Ground Floor, Jalan Abell, Kuching, Kuching, Sarawak 93100, Malaysia
Franco beau hair
Lot L1-11, Ground Floor, Twin Galaxy Residence, Jalan Dato Abdullah Tahir
Johor Bahru
07-382 1919
BEVERLY WILSHIRE CLINIC
Lot L1-03, Level 1,
Tropicana City Mall,
3, Jalan SS20/27,
47400 Petaling Jaya, Selangor D.E
Tel: +6 03-77258890
email enquiry: dr.chwong@beverlywilshiremedical.com
DHI HAIR CLINIC/ KLSC @ PJ
(DHI GLOBAL MALAYSIA BRANCH)
KL South Clinic (KLSC) , 52, jalan selangor , 46050 ,
Petaling Jaya, Selangor
0143371286
Dr Shah Hair Clinic @ SUBANG JAYA
Contact: 0356332333 / 0132705556
No 29-30 , SS 15/5A 47500 Subang Jaya
Clinic Dr Inder @ PJ CENTRESTAGE
P-G-002, Jalan 13/1, PJ Centrestage, 46300 Petaling Jaya, Selangor, Malaysia.
Phone:+60 3-7932 1818 ( Debra/Maria )
Thalia Clinic @ KUANTAN
3-14 Mahkota Square , Jalan Mahkota, 25000, Kuantan , Pahang
09-5164777 / 0199806377
Klinik Alpha
No 72-2A Hala Pengkalan Timur 1, Taman Pasir Puteh Selatan , 31650, Ipoh , Perak
053215512
MEDTOWN PHARMACY
Contact: 082863881 (David)
Sublot 48 , Ground floor , Eastern Mall,
Eastern Commercial Centre,17th mile,
Jalan kuching serian , 94200, Kuching , Sarawak
FARMASI TANJUNG BUNGAH
Contact: 04-890083904-8900839
2H-G, Jalan Lembah Permai,
Tanjung Bungah, 11200, Penang
KIM'S PHARMACY @ SUNGAI BESI
Contact: 0183215065
Chemist Direct SDN BHD
8, Jalan Tasik Utama 9, Medan Niaga,
Tasik Damai,Sungai Besi, 57000 Kuala Lumpur
M+ Pharmacy and Natural Remedies
Atria Damansara Jaya
G47, Ground Floor,
Atria Shopping Gallery
Jalan SS 22/23, Damansara Jaya,
47400 Petaling Jaya,
Selangor Darul Ehsan
Malaysia
M+ Pharmacy and Natural Remedies
Bangsar Village
LG11A, Bangsar
Village Shopping Centre,
No. 1, Jalan Telawi 1, Bangsar Baru,
59100 Kuala Lumpur
Malaysia
M+ Pharmacy and Natural Remedies
Da:Mén USJ 1
LG35, Damen USJ,
1, Persiaran Kewajipan,
USJ 1, 47600, Subang Jaya,
Selangor Darul Ehsan,
Malaysia
Planet Pharmacy Sdn Bhd
Subang Jaya SS15
No 55, Ground Floor, 
Jalan SS15/8A,
USJ 15, 47500, Subang Jaya, 
Selangor Darul Ehsan,
Malaysia
Tel & Fax : +603 5611 0016
Natural's Recipe Organic Shop
Natural's Origin
73, campbell street
George Town 10100
016-433 5698
Natural Origin Organic Shop
Johor Bahru
G-04 Block B, Ground Floor, Permas Mall, Jalan Permas Utara, Bandar Baru Permas Jaya, 81750 Johor Bahru, Malaysia. Tel / Fax: 607-3883600
Georgetown pharmacy
SUNSHINE JELUTONG
Lot R6-8,
Sunshine Jelutong
385-1-1, Jalan Perak
11600 Penang.
Tel: 04-2966344
Operating Hours:
Open Daily: 9am-9:45pm.
Georgetown pharmacy
52, Jalan Mahsuri, 11950 Bayan Baru,
Penang ( Beside Young Ones)
Tel: 04-6115345 Fax: 04-6432703
Operating Hours:
Open Daily:
Mon – Sat: 10am – 9pm
Sun: 10am – 5pm
Watson outlet starting January 2017
WATSON PERSONAL CARE STORE
SURIA KLCC , 3RD FLOOR
(SECTION AMPANG MALL) ,
Jalan Ampang, Kuala Lumpur City Centre,
50088 Kuala Lumpur,
Wilayah Persekutuan Kuala Lumpur, Malaysia
Phone:+60 3-2161 7533
WATSON PERSONAL CARE STORE
Alamanda Shopping Centre, Lg39,
Jalan Alamanda, Presint 1,
62000 Putrajaya,
Wilayah Persekutuan Putrajaya, Malaysia
WATSON PERSONAL CARE STORE
Cheras Leisure Mall, L1-32,
Jalan Manis 6, Taman Gemilang,
56100 Batu 9 Cheras, Wilayah Persekutuan Kuala Lumpur,
Malaysia
Phone:+60 3-9132 2458
WATSONS PERSONAL CARE STORE
Address: Lot F7, First Floor,
Jalan Teh Lean Swee,
Kinta City Shopping Centre Ipoh Garden ,
Ipoh, Malaysia
Phone:+60 5-549 5114
WATSONS PERSONAL CARE STORE
KUANTAN PARADE.
UNIT G-49 & G-50 GROUND FLOOR,
JALAN HAJI ABDUL RAHMAN,
Pahang, Kuantan,
25000, Malaysia. Phone. 09-5136871
Watson Outlet Starting June 2017
MAHKOTA PARADE
IOI MALL
SUNWAY PYRAMID
PLAZA ANGSANA
JB CITY SQUARE
GURNEY PLAZA
JUSCO SEREMBAN 2
JUSCO CHERAS SELATAN
SUNWAY CARNIVAL
WETEX PARADE SHOPPIN
CENTRE POINT KK
ONE UTAMA SHPG CTR
JUSCO MELAKA
KL FESTIVAL CITY
BANDAR PRIMA SANDAKA
MID VALLEY MEGAMALL
IOI CITY MALL
PARADIGM MALL
THE MINES
AEON TEBRAU
MYTOWN
DATARAN PAHLAWAN
KSL CITY MALL JB
AEON BANDAR DATO ONN
TOPPIK ONLINE PURCHASE ( ID : TOPPIK MALAYSIA)

-GLOBAL HAIR SOLUTION
(OFFICIAL TOPPIK DISTRIBUTOR MALAYSIA)