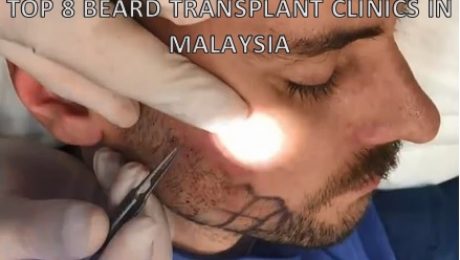 Not everyone is blessed with beard growing genes after puberty. Just like height, either you have it, or you don't. But that is no longer the case for growing a thick beard, as beard transplants are available now in Malaysia! You can get that lumberjack look you've always dreamed of, by transplanting hair follicles from the back of your head to your face, allowing you to grow your beard naturally. Here are some of the finest hair clinics in the nation offering beard transplants.

1. Glojas Health Clinic
Dr. Jas and Dr. Ali are known for hair restoration treatments including Smart FUE, but other services are provided as well, such as cosmetic surgery, skin treatments, and facial hair transplants. Glojas offers hair transplants to the beard, eyebrows, moustache, and sideburns as well the cheek beard. Even areas where hair has never grown before can be treated. Also, their facial hair transplants can be used to conceal moles, acne scars and other types of scars. The procedure is available to both men and women.

2. Klinik Dr. Inder
Their clinic has been popular with clients requesting for beard transplants, from once a month to once a week recently. The number or grafts to be transplanted from the scalp to the face ranges from 500 to 2000. Not only that, the results are claimed to be permanent. Post-care treatments are included in the service and there is plenty of guidance for recovery.
3. Dr Shah Hair Clinic

Dr Shah Hair Clinic offers very competitive prices for high quality services. Their treatments are affordable and are recommended by many. After the procedure, results can be seen in a few months. The hair transplant clinic has been operating for more than 10 years and the team has sufficient experience and training to ensure professionalism.

4. Dr Ruban's Skin & Hair Clinic
Their technique involves harvesting the hair follicles from the back of the scalp. The grafts would then be transplanted to the desired area using micro insertions. Design is also very important in their procedures, whereby the team makes sure the final result is natural-looking.

5. Klinik Terry Lee Sdn Bhd
This aesthetic clinic provides various services, and beard transplants are one of them. The FUE hair transplant technique can also be applied on the eyebrows, moustache and sideburns. Without using any scalpels or stitches, the treatment sessions require minimal healing time. In addition, Gary Yap and Pauline Tan are the ambassadors for this clinic. There are two Terry Lee clinics in Ipoh, one in Petaling Jaya, and one in Desa ParkCity.

6. DHI Malaysia
Using their very own DHI technique, the facial hair restoration process is made possible with patented DHI specialised tools for implantation. This enables complete control of the depth and direction of the implanted hair, hence achieving natural looking results. DHI takes pride in following a meticulous step-by-step process from designing the beard to controlling the angle of each hair follicle. They are determined in ensuring that the symmetry is accurate and there is a natural pattern of the intended shape of the beard and moustache.

7. Hair Transplant Solutions @ The KL Sky Clinic
Located in KLCC, Hair Transplant Solutions use high precision tools to carefully select hair follicles from the selected donor area (usually the side or back of the head) after analysing the suitability for the treatment. The beard design is customisable with photo reference and agreed upon with the client before starting the transplant. Then, the doctor will calculate the number of grafts needed for the procedure. The process is pain-free with the FUE method. This clinic offers beard transplants as one of their main services. Furthermore, they have their own in-house hair stylist to assist the medical team in achieving the perfect design.

8. Nexus Clinic
The facial hair transplants conducted in Nexus Clinic are unique because they are done by Europe's most preferred hair transplant surgeons. They specialise in beards, moustaches, goatees, eyebrows and sideburns. The FUE hair transplant technique is suitable for all patients of all ethnic backgrounds. Moreover, patients with sparse facial hair, patchiness or any facial scars are recommended to try the beard transplant procedure. Nexus Clinic can be found in Kuala Lumpur and Cyberjaya.
After a beard transplant, patients are advised not to shave for at least a week. While waiting for the beard to grow longer, try TOPPIK Hair Building Fibers to thicken the beard and cover thinning spots instantly! The fibers can be used in any part of the head and face. Visit https://toppikmalaysia.com/what-is-toppik/ to find out more.