Toppik and dermmatch best hairloss solution in malaysia ?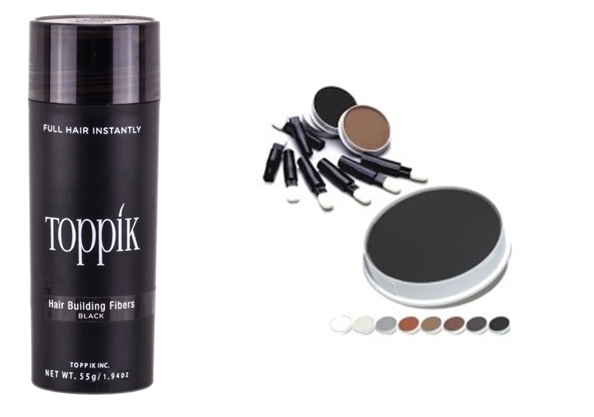 ARE THERE ANYTHING I CAN DO TO MY THINNING HAIR?
 THE SIMPLE ANSWER IS YES !
HAIRLOSS IMPACT ALMOST EVERYONE , MAN OR WOMEN. HAIR ITSELF IS A FASHION, AND BY TODAY STANDARD EQUAL TO A PERSON IMAGE.WITH THINNING HAIR AND SHEDDING, HAIRLOSS ITSELF POSE HIGHLY EMOTIONAL NEGATIVE IMPACT ON A HEALTHY INDIVIDUAL ,NO MATTER ON PHYSICALLY OR MENTAL ASPECT
WE RE GLAD TO TELL YOU THAT WE UNDERSTAND YOUR PAIN POINT AND BY TODAY MODERN TECHNOLOGY, THERE IS HOPE !
Toppik and dermmatch IS BY FAR THE MOST PROMINENT HAIRLOSS CONCEALER USE BY MILLION OF USER AND DOCTOR WORLDWIDE !
Toppik gives the instant appearance of a thick, full head of hair. Toppik Hair Building Fibers are actually natural Keratin of the highest grade, the same type of protein found in real hair. The Fibers have a strong natural static charge that creates a magnetic effect, tightly binding Toppik Hair Building Fibers to even the finest strand of human hair. The results have changed the lives of millions of women and men in various situations, ranging from fine or thinning hair to alopecia.
Dermmatch on other hand is an instant, water-resistant cosmetic topical shading for hair loss. Recommended by hair transplant surgeons and dermatologists
Dermmatch is a topical solution, mean it virtually "paint the scalp" , so your hair look full and thick . When use together with toppik micro fiber which bond to thinning hair, they work incredibly wonder and truly is a masterpiece !
Together with Toppik and dermmatch combination  ,
NO ONE WILL EVER KNOW HOW YOU GET A FULL HEAD OF HAIR  ! A CELEBRITY SECRET !
See how Toppik and dermmatch work here
courtesy of
Global hair Solution
www.toppikmalaysia.com
CABOKI MALAYSIA VS TOPPIK MALAYSIA VS NANOGEN MALAYSIA
Toppik – Bagaimana Toppik Berfungsi?
Toppik gentian serat rambut merupakan keratin gentian buatan kecil yang mengikat rambut yang sedia ada dan memberikan isipadu yang lebih dan ketebalan, mengurangkan kemunculan botak. Formula ini adalah sama dengan nanogen , kerana ia menggunakan keratin. Pembuatan syarikat telah memperkenalkan pelbagai jenis produk lain untuk membantu penggunaan produk. Mereka mempunyai semburan khas untuk kawalan yang lebih baik semasa memohon dan pengoptimum garis rambut, yang mengawal penggunaan gentian di garis rambut untuk melihat semula jadi.
Untuk ketahanan yang lebih baik, mereka mempunyai produk yang berasingan, yang "Fiberhold Spray" yang akan membantu produk melekat lebih baik untuk rambut. Produk ini nampak berkualiti, dan ia kelihatan semula jadi dan ia berasa semula jadi.
Nanogen – Bagaimana  Nanogen Berfungsi?
Nanogen menggunakan nanofibre formulasi unik keratin, dipotong dan dibentuk untuk memaksimumkan pematuhan kepada rambut anda. Balang nanogen, mempunyai reka bentuk khas untuk mengenakan elektrostatik gentian. Caj elektrostatik adalah caj yang membuat gentian melekat pada rambut anda. Nano serat juga lapisan khas untuk menyediakan cas elektrostatik yang sempurna.
Perkara yang menarik mengenai keratin adalah bahawa ia adalah bahan yang sama seperti rambut anda, jadi ia kelihatan seperti rambut anda, ia adalah semula jadi, ia tidak menimbulkan kerengsaan, dan sangat selamat.
Kelemahan adalah bahawa jika anda mahu untuk menetapkan nanofibers kepada rambut anda, anda perlu menggunakan  Fiberhold Spray. Ia entah bagaimana tidak secara terbuka diiklankan di dokumentasi mereka, tetapi anda mengetahuinya dengan menggunakan produk.
Caboki – Bagaimana Adakah Caboki Kerja
Caboki adalah serbuk yang diperbuat daripada gentian kecil . Ia berfungsi dengan melekat dengan rambut anda, menghapuskan keperluan semburan rambut. Ia adalah kerengsaan kurang daripada apa-apa lagi, gatal-kurangnya untuk sebahagian besar orang. Hakikat bahawa mereka menggunakan semua pewarna semula jadi menjadikan ia lebih banyak lagi boleh pakai.
Kelemahan – ia tidak kalis air seperti mana yang diiklankan, kerana syarikat itu mahu kami percaya
-cabutan testimonial coffee break