Rogaine For Hairloss Treatment And Hair Regrowth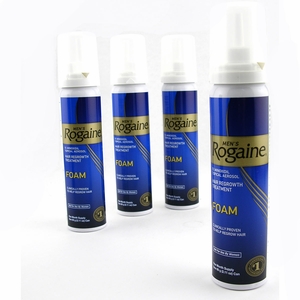 Rogaine is one of the Proven hair loss treatment approved by FDA for Hairloss Treatment
It is the first available medication that has been proven effective for hair loss treatment. It contains the active ingredient minoxidil and is the only product which has been medically proven to treat hereditary hair loss. Rogaine is a solution which is applied topically to the scalp twice a day. It can also slow down hair loss in men who are showing signs of balding.
In consumer surveys of over 7,000 men, 80% said they noticed a difference. Furthermore, after 12 months of continuous use, 40% showed regrowth.
Rogaine (Malaysia)  is also known as Regaine in some countries.
How Rogaine Works ?
Rogaine works in part by partially enlarging miniaturised follicles and reversing the miniaturisation process.
This prolongs the growth phase of the hair cycle, allowing the hair to become longer and thicker. And with more follicles in the growth phase at the same time, it is possible to see improved coverage of the scalp.
Although the growth phase may be prolonged, the follicle will continue to cycle. Several cycles may be necessary before maximum potential hair regrowth can be achieved.
While clinical trials have proven Rogaine can assist in hair regrowth for both men and women, thicken existing hair, reduce hair loss, and stimulate new hair growth, individual results can be affected by several factors.
The younger the age of patients, the greater chance of good results.
If hair is thinning as opposed to having a bald spot, response will be better.
If the bald area is less than 10cm and has been that way for less than 10 years, response will be better.
Response is better on the crown (back) rather than on the front of the scalp.
Rogaine must be applied twice daily every day. It will need to be used for four to six months before seeing hair regrowth. If Rogaine treatment is stopped after regrowing hair, the new hair will fall out within four months.
Is Rogaine Right for you?
Extensive studies have shown that Rogaine is effective at stopping hereditary hair loss. But there are many causes of hair loss and Rogaine is not suitable for everyone. That's why it's important to discover first whether Rogaine is right for you…
Do you have a family history of hair loss?
Have been losing hair for less than 10 years?
Do you have a balding area less than 10 cm in diameter, with some remaining hair growth?
Do you have hair loss at the front of your scalp or on the crown?
Are over 18 and in good physical health?
If you answered YES to all of these questions, then Rogaine could be your answer to ending hair loss.
If you are experiencing hair loss and it is not hereditary, Rogaine is not the answer for you. But don't despair, there are lots of other ways of dealing with hair loss which can help improve your looks and confidence.
RESULT ROGAINE MINOXIDIL 2% VERSUS 5%
A randomized clinical trial of 5% topical minoxidil versus 2% topical minoxidil and placebo in the treatment of androgenetic alopecia in men.
BACKGROUND:
Topical minoxidil solution 2% stimulates new hair growth and helps stop the loss of hair in individuals with androgenetic alopecia (AGA). Results can be variable, and historical experience suggests that higher concentrations of topical minoxidil may enhance efficacy.
OBJECTIVE:
The purpose of this 48-week, double-blind, placebo-controlled, randomized, multicenter trial was to compare 5% topical minoxidil with 2% topical minoxidil and placebo in the treatment of men with AGA.
METHODS:
A total of 393 men (18-49 years old) with AGA applied 5% topical minoxidil solution (n = 157), 2% topical minoxidil solution (n = 158), or placebo (vehicle for 5% solution; n = 78) twice daily. Efficacy was evaluated by scalp target area hair counts and patient and investigator assessments of change in scalp coverage and benefit of treatment.
RESULTS:
After 48 weeks of therapy, 5% topical minoxidil was significantly superior to 2% topical minoxidil and placebo in terms of change from baseline in nonvellus hair count, patient rating of scalp coverage and treatment benefit, and investigator rating of scalp coverage. Hair count data indicate that response to treatment occurred earlier with 5% compared with 2% topical minoxidil. Additionally, data from a patient questionnaire on quality of life, global benefit, hair growth, and hair styling demonstrated that 5% topical minoxidil helped improve patients' psychosocial perceptions of hair loss. An increased occurrence of pruritus and local irritation was observed with 5% topical minoxidil compared with 2% topical minoxidil.
CONCLUSION:
In men with AGA, 5% topical minoxidil was clearly superior to 2% topical minoxidil and placebo in increasing hair regrowth, and the magnitude of its effect was marked (45% more hair regrowth than 2% topical minoxidil at week 48). Men who used 5% topical minoxidil also had an earlier response to treatment than those who used 2% topical minoxidil. Psychosocial perceptions of hair loss in men with AGA were also improved. Topical minoxidil (5% and 2%) was well tolerated by the men in this trial without evidence of systemic effects.
Can i use toppik with Rogaine minoxidil?
The simple answer is YES ! Rogaine minoxidil had become popular option for hairloss treatment since it is approved by FDA for hair growth .The good news is that toppik can be use on top of minoxidil / rogaine application.
First do this by applying minoxidil/rogaine liquid on top of your scalp and let it dry out within half or an hour  or so.
Toppik can Then be applied after the liquid is dry…
In this way you can always use both of them together for your daily routine , at the same time enjoyed FULL HEAD OF HAIR with TOPPIK !