Description
TOPPIK 2 STEP CLEANSING AND CONCEAL PACK
What's In The Package
-Toppik Hair Building Fiber 27.5g + Toppik Hair Building Shampoo

Toppik Hair Building Fibers instantly make thinning hair look thick and full. Its Keratin Fibers cling to existing hair and in seconds fill in all thinning or balding area. Toppik won't come off in wind rain or perspiration. It is totally undetectable even from as close as two inches. All you will see is thicker looking hair!
Toppik Hair Building Shampoo strengthens and repairs thin, thinning or damaged hair, giving it volume and fullness. The lightweight formula cleanses and nourishes the hair and scalp with concentrated Keratin proteins. Free of sulfates and parabens.
Directions: Apply to wet hair. Work into a lather, massaging into scalp. Rinse thoroughly. For best results, follow with Toppik Hair Building Conditioner.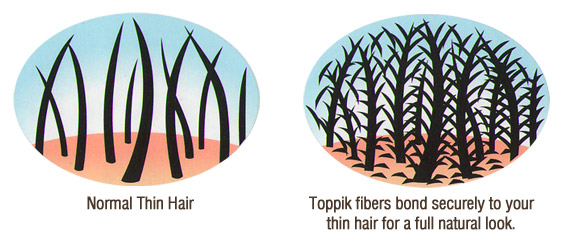 How Toppik Hair Building Fiber Work and eliminate hair loss instantly ? ( Toppik Malaysia)

Toppik Hair Building Fiber uses something known as "micro-fibers" which, when applied, bind to your hair, making it look thicker. The fibers used by Toppik are made of the same protein Keratin that normal human hair is made up of. The fibers actually mesh with your hair so well that it's nearly impossible to tell the you've done anything.
Instantly you will see a more natual, thicker looking head of hair in just 30 second ! NO MORE HAIR LOSS !