Description

Toppik Hair Building Fibers 12G REGULAR SIZE
#MEDIUM BROWN
*estimate usage 1-2 month or longer
Ever wonder what you can do with your thinning hair  ? Being low confidence didn't help but Toppik can reverse all that ! This unique organic fibers blend with your thinning hair and make them return to their full glory in just seconds !
Toppik won't come off in wind, rain or perspiration. It is totally undetectable, even from as close as two inches. All you will see is thicker looking hair!
Toppik hair building Fibers is Made of Organic , Keratin protein that is naturally statically charged, Toppik Hair Building Fibers intertwine with your existing thinning hair for a completely full and natural look. It can be removes easily with shampoo.
How Toppik Hair Building Fibers Eliminate hair loss? ( Toppik Malaysia)



Toppik Hair Building Fibers uses something known as "micro-fibers" which, when applied, bind to your hair, making it look thicker. The fibers used  are made of the same protein Keratin that normal human hair is made up of. The fibers actually mesh with your hair so well that it's nearly impossible to tell the you've done anything. Instantly you will see a more natual, thicker looking head of hair in just 30 second !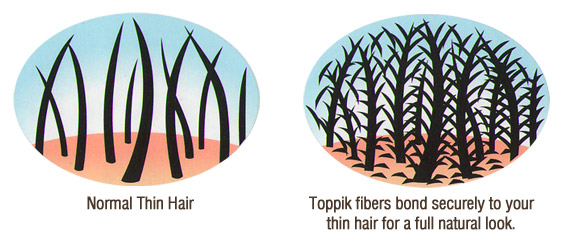 Dramatically improve results by using the Toppik Spray Applicator and Toppik Hairline Optimizer. These precision instruments allow you to precisely spray on Toppik and enhance your hairline. You will immediately see an even more natural look. Click on a product below to learn more about that item.
Seeing your self is believing, So fellow Malaysian , lets try out today and be your own judge !